With so many reasons to choose a small home plan, small modern homes are becoming increasingly popular. Some home buyers are downsizing to a smaller home, choosing a luxurious simplicity over large spaces. Other first-time buyers are choosing small homes to enjoy an urban lifestyle at a more affordable price.
Whatever the reason may be that you are considering a small home plan for your next home, it's important that you get the most out of your space.
Read on to find out why some buyers are choosing a small modern home design, and how to get the most out of your small or narrow floor plan.


Why Choose a Smaller Home Plan?
First off, why might you choose to build a small modern home?
Small home plans can be a great option for many homeowners. We've written a whole blog on reasons why buyers are building smaller homes - 5 Unique Reasons to Build a Small Home Plan - but at a quick glance some reasons include:

A Small Home Requires a Smaller Lot
A Small Modern House Plan Costs Less to Build
A Small House is Better for the Environment
Now that we've explored a few of the reasons to build a small modern home, let's look at the "how".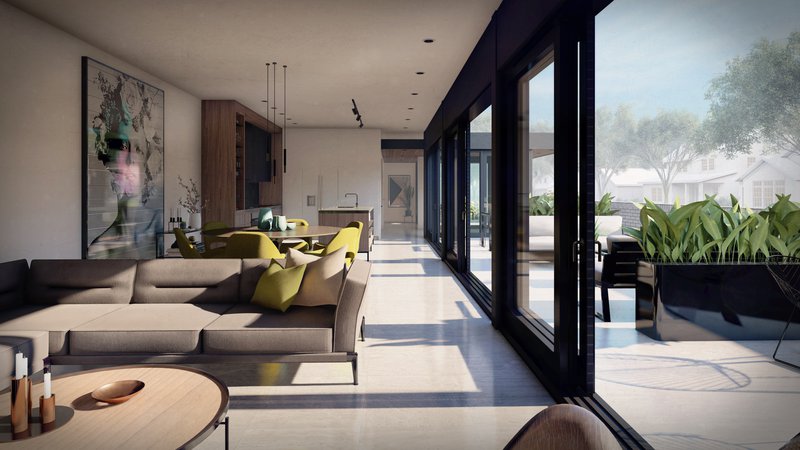 1. Choose An Open Floor Plan Design
An open floor plan makes a small home plan feel larger, and function larger, than its overall square footage would suggest.
Removing interior walls not only makes each room look larger than it actually is, but also allows rooms to benefit from the fluidity of spaces between functional zones. In place of walls, you now have a "neutral" zone that can be used flexibly by both adjacent rooms. For example, you can easily extend the living room for a large social gathering by removing the leaf from your dining room table, moving a few dining chairs to the living room, and rearranging the sofa.
An open floor plan also allows you to meet a "minimum" practical room size for each of your rooms. With a small floor plan, or narrow floor plan, closed-off, single function spaces can make it difficult to accomplish a minimum comfortable room size. Removing walls and allowing each room or space to benefit from the other, and from the neutral zone between spaces, can allow you to accomplish larger "rooms" even in a very small house plan.
Pro Tip: At My Modern Home we recommend a minimum 9 feet in width for your dining room – this will accommodate a standard 3 foot wide dining table. The minimum length of your dining room will then depend on how many diners you want to accommodate and the amount of space you have available. Remember – a flexible floor plan will allow you to extend your dining room when you have visitors!



2. Provide Ample Natural Light
Allowing natural light to flow through your floor plan is important for small home design.
Bright spaces feel larger than dark spaces, and are also just more comfortable to spend time in. Access to ample natural light is even associated with better physical and mental health!
When designing your small modern home, prioritize including the largest windows that you can afford. We even recommend cutting the budget on other items that can be easily upgraded later (such as lighting, hardware, or carpet) to increase your window budget.
Floor to ceiling windows will also make your home feel larger, as each room will appear to extend to the outdoor spaces beyond your exterior walls.
Consider other strategies to bring daylight further into your home, such as skylights or designs that incorporate courtyard plans.

Pro tip: Pairing an open concept floor plan with floor to ceiling windows is an effective way to enhance the impact that the removal of visual barriers has on a small modern home.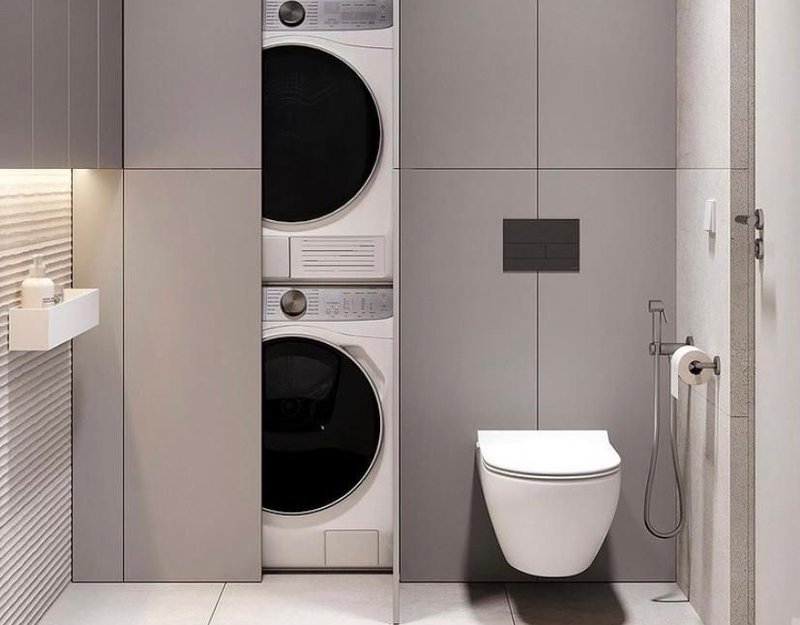 3. Share Household Amenities
Sharing amenities in your small home design will free up space, allowing you to prioritize square footage for well-used rooms such as kitchens and living rooms, over more utilitarian spaces such as laundry rooms.
Consider reducing the number of bathrooms in your home. While it is common for each bedroom in a large home to have a dedicated bathroom, in a small home design we recommend a shared bathroom for rooms other than the primary bedroom (or even a master/primary bedroom without an en-suite if this isn't a priority for your lifestyle).
Sharing a bathroom can be made easier and more comfortable by separating the bathroom functionally into separate rooms. For example, design your bathroom into two or even three separate spaces, separated by walls and doors into separate "rooms": a larger sink area with vanity, a water closet, and a shower room. Each room within the bathroom can be used at the same time while maintaining privacy and comfort for family members.
We also recommend placing your laundry area adjacent to your bathroom. Rather than a dedicated laundry room, consider a laundry closet with a stacking front load washer and dryer. The sink in your bathroom can serve as the utility sink for your laundry, and the shower is perfect for air drying.
Not only does sharing amenities in this way save square footage, it also reduces building costs freeing up budget for other priorities (such as large windows!).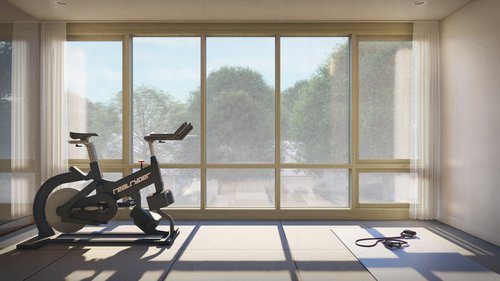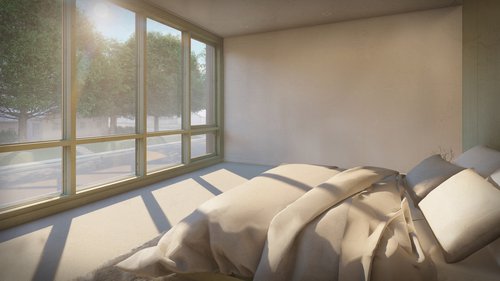 4. Plan for Multi-Functional Use of Spaces
Planning secondary rooms to fulfill multiple functions will help you maximize your square footage in a small house plan. Not only will the rooms then be better used day to day, but also allow the function of these rooms to change as your lifestyle and needs change over time.
We recommend sizing all secondary rooms (home offices, craft rooms, etc.) so they can serve as a bedroom. Likewise, if possible, include closets in secondary rooms to provide extra storage and to accommodate future use as a bedroom.
Including windows in all such secondary rooms is also important. As we've touched on above, access to daylight is a key element to making a room more pleasant to spend time in. It also provides an emergency exit, which is required for bedrooms in many jurisdictions.
If you are able to accommodate a full washroom in proximity to secondary rooms, they can serve more purposes in the future. For example, a full washroom on the main floor allows a home office to serve as a spare bedroom or a dedicated bedroom in the future.
Plan your furniture in these secondary rooms to allow the room to serve multiple purposes. For example, a murphy bed can allow your home office to serve as a spare bedroom for company. Many more companies are now selling innovative modern furniture which can be used flexibly for multiple purposes – shop around and explore what items can expand the versatility of your living space.
Lighting, data outlets, and electrical outlets should also be given careful consideration to ensure that all possible uses can be met. Consider adequate base-level lighting that can be switched independently, put on a dimmer, or supplemented with the use of lamps for mood or task lighting. Install data outlets and ample electrical outlets in rooms that could be used as a home office, gym, or family room (you can never have too many outlets!).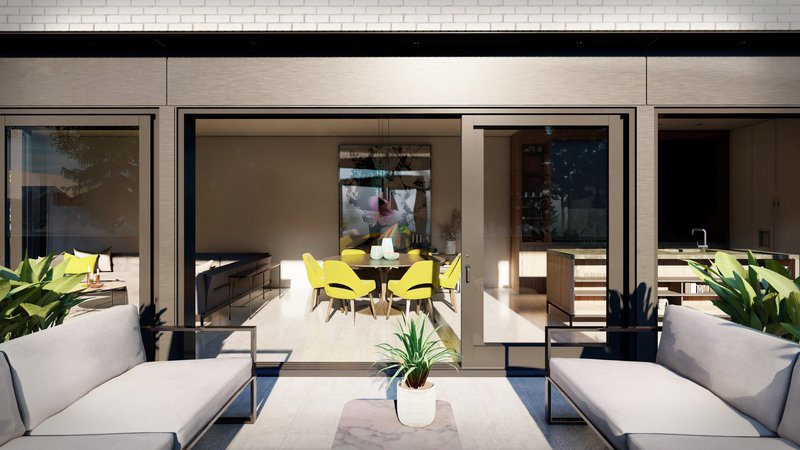 5. Connect Interior Spaces to the Outdoors
We've discussed above how large windows or, better yet, floor to ceiling windows make rooms feel larger as they extend to the outdoors.
Planning your outdoor spaces to be adjacent to rooms like your kitchen and living room allows you to functionally expand the square footage of your small home during temperate weather. Outdoor dining and living areas can be as luxurious as interior spaces. You can use screens and clever landscaping to create privacy from neighbours or the street.
To extend the use of your outdoor spaces, consider a courtyard house plan. Courtyards are sheltered in cold or windy weather, and provide protection from extreme heat and sun in the summer months. If you are interested in learning more, check out our blog on courtyard homes – "Why Courtyard House Plans are Becoming So Popular".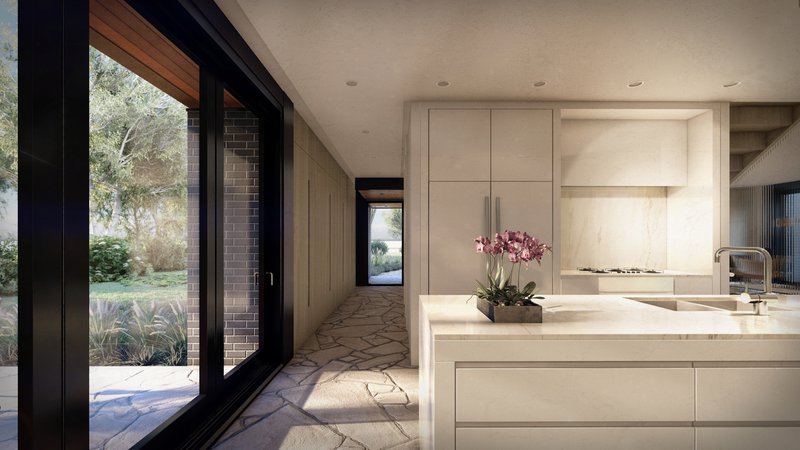 6. Take Advantage of your Corridors
When designing your floor plan for your small home, look for opportunities to use corridor spaces for rooms and amenities that don't need privacy. For example, you could choose to have a home "office" in a corridor space if you don't work from home regularly, rather than using a dedicated room for your home office. Using corridors creatively can free up space for other rooms in your home.
Also, plan corridor spaces for your storage needs. Linen closets, broom closets, pantries, and coat rooms can all be accessed from your corridor to save on space in other rooms.
Building a Small Home Doesn't Mean You Can't Live Large
As we all know, good things come in small packages, and modern home designs are no different!
The design considerations that we have outlined in this article can benefit any small modern house plan. Whether you're planning on building on a narrow lot, an eco-friendly house with a compact footprint, or a modest single story houses; take advantage of the strategies outlined above to give you the most out of every precious square inch.