Historical Effect of Technology on Architecture
The impact of technology on architecture, and in particular the impact of changes in technology on architecture, are particularly apparent when one considers architectural history.
Of course, the history of architecture is as broad and nearly as intricate as the history of civilization itself. While such an in-depth consideration of the impact of technology on architecture is outside of the scope of this article, touching on a few significant milestones is illustrative of the deep ties between technology and architecture in our built world across time.

Pyramids of Ancient Egypt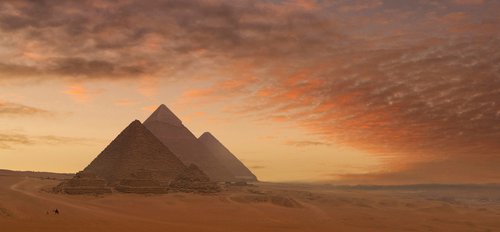 One early example of the impact of technology on architecture is the construction of the stepped (and later) smooth sided pyramids found in ancient Egypt. Egyptians were able to use simple technology (by modern standards) to accomplish sophisticated monuments.
The building technology used by the Egyptians included not only a requirement to understand basic engineering principles (to prevent collapse of constructed structures), an understanding of physics (to build ramps at the right slope to haul massive stones) but also the insight to use a non-engineering and construction technology (namely, boats and canals) to their advantage. Previously, boats were used for fishing and trade. The Egyptians used ships to transport large blocks of stones weighing several tens of tons safely on canals to the location where a particular pyramid was being constructed.
Given that the Egyptians were able to even accomplish the construction of the pyramids with rudimentary technology and given the well-preserved nature of the pyramids thousands of years after-the-fact, the Egyptians were clearly able to understand the connection between technology and architecture and use it to their advantage!

Cathedrals of the Middle Ages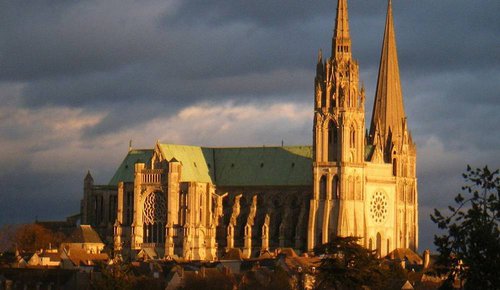 During the Middle Ages, a new building technology was discovered which revolutionized the design and construction of the most significant public buildings constructed during this era – Cathedrals. Flying buttresses revolutionized cathedral design and construction across Europe and are an excellent example of the impact of technology on architecture.
Not only were cathedrals important religious buildings, they were also important economic drivers for the towns and cities in which they were constructed. Thus, religious organizations and towns alike competed to have the "biggest and best" cathedrals to draw more people to their community for trade, commerce and to live.
As this drive to construct grander, taller, and larger cathedrals continued, new technology had to be developed to support the extra weight of stone ceilings and walls, and to temper the forces of wind pushing against taller and taller walls. Failure to address these forces could result in disaster – such as the collapse of the Beauvais cathedral, in 1284.
What is a flying buttress? The Oxford Dictionary of Architecture provides the following definition: "a specific form of buttress composed of an arch that extends from the upper portion of a wall to a pier of great mass, in order to convey lateral forces to the ground that are necessary to push a wall outwards. These forces arise from vaulted ceilings of stone and from wind loading roofs." If you have seen photos of the Notre-Dame de Paris' south façade, you will recognize the flying buttresses.
Flying buttresses demonstrate the interplay of technology and architecture, not only because they allowed cathedrals to be revolutionized from a technical perspective, but also because they demonstrate the impact of technology on architecture from an aesthetic perspective. Not only were fly They were an important technical and aesthetic innovation in Gothic architecture.
Whereas Romanesque period cathedrals were solid and heavy with thick walls (resulting in dark interiors), Gothic cathedrals were intended to make the churches "look like heaven" with high ceilings, slender buttresses, and large, bright stained-glass windows providing both light and decoration.
Cathedrals of the Middle Ages provide an explicit example of how changes in technology and architecture go hand in hand, and how the impact of technology on architecture can define the aesthetic of a period.
The Industrial Revolution, Technology and the Modernist Movement
The impact of technology on architecture is especially apparent following the industrial revolution. Scientific breakthroughs coincided with technological advances made during the industrial revolution in the 19th century, transforming the architecture and construction industries.
Following this period of technological advances, Modern architecture developed as one part of the larger Modernist movement. Modernist architecture created designs at the intersection of technology and architecture - abandoning past styles and conventions during this period in favor of a form of design based on essential functional concerns. These developments could not have occurred without advances in building technologies, including steel frame construction and the curtain wall (used in commercial applications) and other innovations such as drywall and balloon frame construction (which is a predecessor to today's platform wood frame construction).

---