Often, small modern homes are designed without a home office. While working at the kitchen counter may suffice for checking a few emails from time to time, it can be difficult and disruptive to try to complete meaningful work without a designated space (never mind the havoc that poor ergonomics can wreak on your body!).
At other times, we see both large and small homes designed with a home office relegated to a small, dark space off the front entrance that would be better suited to a storage room than a space to inspire productive work.
At My Modern Home, we believe that even small modern home floor plans can enjoy deceptively spacious, bright, and thoughtfully designed home offices. In this article we'll outline our top small home office ideas to help you make the most of your space.

---
Ample Natural Light
No matter how large or small your home office may be, we cannot emphasize enough the difference that ample natural light can make on the feel (and function) of your work-space. Natural light is even more important to incorporate if you have a small home office and is probably our number-one most-important small home office idea.
Study after study has confirmed that access to natural light can have a significant impact on both physical and mental well-being. Among other benefits, natural light impacts circadian rhythm, which dictates memory and attention. Numerous studies show that sufficient exposure to natural light in an office setting impacts worker's sleep quality (for the better!) and this improved sleep from better daylight may explain the significant increase in productivity. Better sleep and increased productivity is a small home office idea outcome we can definitely get behind!
Not only does natural light help to give you the energy boost you need to be more productive, but natural light is also easier on your eyes. In particular indirect natural light can reduce eyestrain and makes tasks that require fine motor skills or attention to detail easier to complete. Views – in particular views that allow us to look a far distance away from our screen or our papers - reduce eyestrain by letting the muscles in the eye relax on a long-distance focal point.
While ample natural light should be a top consideration even if you plan to have a giant office, given that this article is focusing on small office design ideas we have to note that large windows and access to ample natural light will also make your small home office feel larger than its actual square footage would suggest. By incorporating large (and ideally, floor to ceiling) windows into your home office design, the room will appear to extend into the outdoor space beyond the exterior wall.
As an added bonus – large windows can do wonders for the property value of your home. We think this makes big windows a huge (pun intended) small home office idea!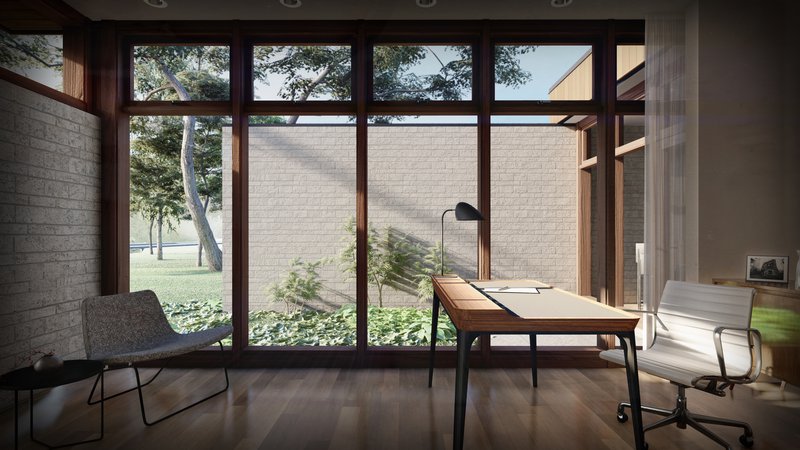 Pro Tip: If you'd like to add natural light to your home office but want to avoid direct light, increase privacy from neighboring properties, or help reduce noise from on the street, consider incorporating clerestory windows into your home office design.


---
Multi-Functional Space
Another small home office idea that we love is to locate your small home office in a multi-functional space.
No – we don't mean the kitchen counter (see above!). What we do mean is designing your small home office into a room that can be used for multiple purposes either day-to-day, or over the years as your needs change.
Often, homeowners choose to design a small home office because they own a small modern home – the square footage doesn't allow a for a spacious office design. At other times, homeowners have a spacious floor plan but are choosing to design a small home office because the office doesn't get used very often or it just isn't a priority space for their lifestyle.
But what if you could have a spacious home office without sacrificing other needs you have for your home? What about an idea that means your small home office doesn't need to be so small after all?
At My Modern Home, we generally recommend designing a home office that is at least 10'X10', but a room that is at least 13'x13' is preferable if at all possible. While this may seem larger than necessary, a room this size will not only function comfortably as a home office, but also allow the room to serve as a bedroom or flex-room (yoga studio, music room, fitness studio, etc.) for yourself or a potential buyer down the road.
If you only host over-night guests on rare-occasion, a small home office can double as a spare bedroom by incorporating a murphy bed into your office design. Many options are now available, with murphy beds incorporated into stylish modern furnishings. Murphy beds can also be incorporated into built-in millwork (see below). In our home office, a queen size murphy bed is sneakily hidden in a floor-to-ceiling closet (thus taking up no floor space when not in use), allowing the room to transform into a spare bedroom on short-notice.
Likewise, a spacious home office can double as a flex-space to practice music, paint or draw (aren't you glad you incorporated those large windows we talked about above?), do yoga, or even lift weights (click weights are great for a small home gym). Having a 13'X13' room will provide not only ample space for a desk and seating, but to accommodate these "extra" functions as well.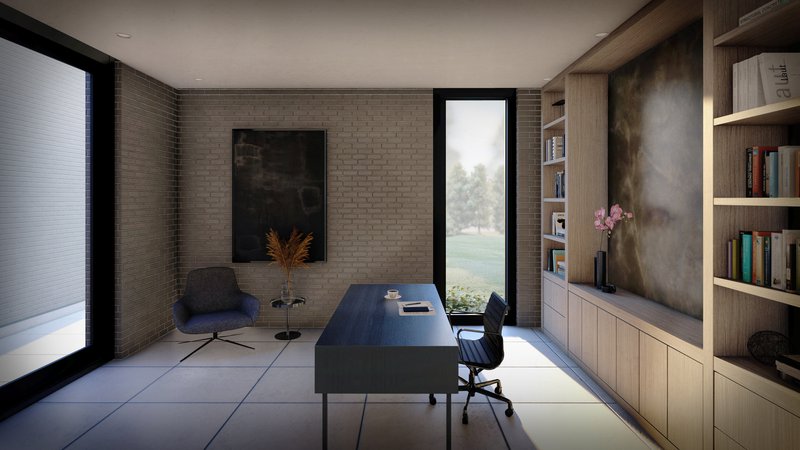 ---
Built-In Millwork
If you work from home full-time or a majority of the time, you may not want your home office to flex into a spare bedroom, craft room or workout space, but we think you will be able to get behind this next great small home office idea – built in millwork!
We love built-in millwork as a small home office design idea for a few reasons:
Built-in millwork will make your small home office look well-considered, sophisticated, and more than a second (or third!) thought room in your home. Built-in millwork allows you to incorporate a uniform design in your home office, which is especially important in a small space as too many pieces of furniture or too many colors and patterns can make the room feel cluttered.
Built-in millwork in your small home office can also provide a more efficient use of space. Incorporating floor-to-ceiling millwork along one wall of your office provides for ample (and efficient!) storage. You can customize your millwork to fit your home office needs (and can even incorporate that murphy bed we talked about above – how convenient if you want to sneak in a nap!)
Another winning advantage of built-in millwork as a small home office design idea is that the combination of efficient use of space, minimizing furniture (because of your built-in millwork), and a cohesive design – your home office will feel so much larger than the actual square footage would suggest!
When you are designing millwork for a small home office, keep your specific needs in mind (if you still keep paper files, incorporate hanging folder drawers, for example) but remember that how we work and what we store will change over time (I bet many of you don't need those hanging folder drawers anymore, right?) so keep your design relatively flexible.
Speaking of change over time – for millwork that will still look stylish and will have the durability to look great year after year, we recommend clean lines and the use of natural wood for your built-in millwork.