A bathroom renovation is one of the best ways to update your home to make it more visually appealing, comfortable, and convenient for your daily routines.
A dated bathroom can feel tired and inefficient. In older or smaller homes with shared bathrooms, the experience of bumping elbows while you get ready for work in the morning truly gets old, fast, and a new bathroom can improve the overall experience of living in your home.
A bathroom renovation (when done right!) can also improve the re-sale value of your home and make it more attractive to potential buyers.
A conventional bathroom renovation can be the best way to go for some homeowners, but in this article we focus on the recent trend in North America towards building and renovating homes with wet rooms.




---
What is a Wet Room?
While wet rooms are more common in Europe and Japan, the trend towards incorporating a wet room into modern home design and into bathroom renovations is a newer trend in North America.
So, if you have never heard of a wet room, and are asking yourself, "What is a wet room?" you are not alone.
A wet room is a completely waterproofed (referred to as "tanked") bathroom which has a shower at the same level as the rest of the floor.
Water which collects on the floor of the wet room drains to a flush floor drain within the shower area. The floor is designed with a gradient to ensure all water runs to the drain. Sometimes the shower is partially separated from the other parts of the room by a glass barrier, but often the bathroom is completely barrier-free.
In a large bathroom, the tanked wet room may be an area within the bathroom which is enclosed in glass and includes a bath and a shower. This is a popular trend in high-end home design, and can turn your bathroom into a spa-like oasis.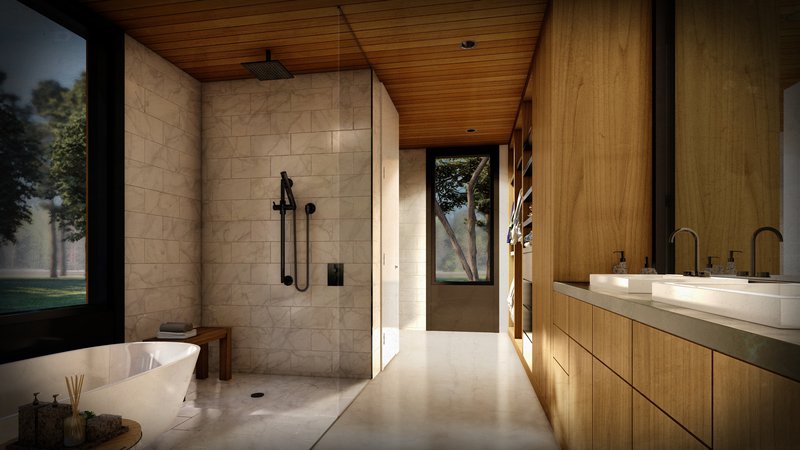 ---
Why Choose a Wet Room?
There are several reasons that wet rooms are becoming more popular in North America:

1. A Wet Room is Perfect for Small Bathroom Design
A wet room is perfect for small bathroom design because it opens the room, removing barriers and furnishings and making the bathroom feel larger than a traditional bathroom design would allow.
You can increase the effect of making the room feel larger by incorporating a window into your bathroom design. Natural light will make the room feel larger, and it is also nice to have natural lighting when applying make-up or shaving. Privacy can be achieved by using privacy glass or by incorporating clerestory windows into your bathroom design.

2. Wet Rooms are Convenient
Ask a parent of young children (or teenagers!) if they wished that they could just power wash the whole bathroom when the time comes to clean. You might get an eyeroll, but you'll probably get a laugh and an enthusiastic, "YES!".
While the power-washer is a bit excessive, the convenience of cleaning and maintaining a wet room is a major plus.
If you have children or pets, a wet room can be a great choice for the convenience of cleaning both your family and the bathroom itself.
Wet rooms are also convenient from a maintenance perspective. Because the entire room is tanked, waterproofed, and well-ventilated, a properly constructed wet room avoids the risk of leaks, water damage, and mold or mildew.

3. Wet Rooms are Barrier-Free
If you are designing a new modern home or renovating your home and want to ensure that your home design will allow you to age-in-place, a wet room bathroom design or bathroom renovation is an excellent option.
The shower area in a wet room is level with the rest of the bathroom floor, thereby eliminating barriers and reducing the risk of slips, trips and falls.
A barrier free bathroom is also ideal for people who use mobility aids such as walkers or wheelchairs.
Work with your designer to ensure that your bathroom will meet the criteria you need to create a barrier-free bathroom design. For more information on how to design a barrier-free washroom, the "ADA Standards for Accessible Design" is the guiding document across the United States and Canada.

4. Wet Rooms Provide Better Resale Value
It's great that wet rooms are convenient, safer, and can make your bathroom feel (and work!) larger than it actually is. But let's talk dollars and cents. Building or renovating a bathroom is an expensive undertaking – and you will want to get the best return on investment possible!
Many homebuyers tend to consider a high-end wet room a luxurious addition to any home. As such wet rooms tend to re-coupe a higher percentage of renovation costs compared to a conventional bathroom renovation.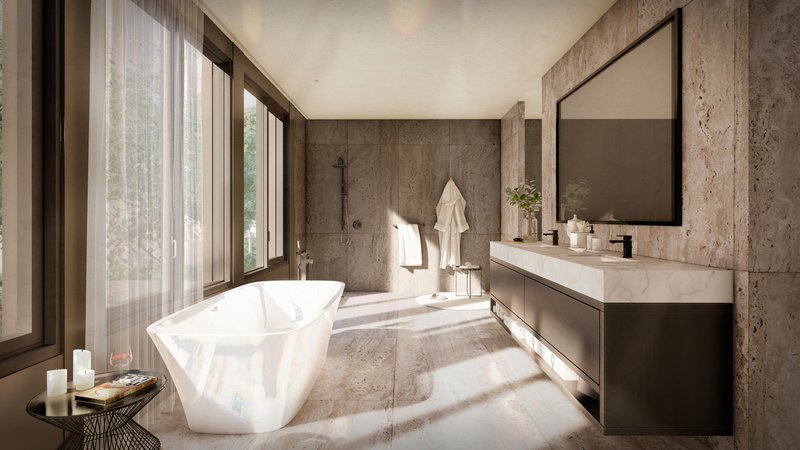 ---
When Shouldn't You Incorporate a Wet Room into your Home Design or Home Renovation?
While a wet room can be a great addition to your new home design or modern renovation, it isn't the best choice for every home.
If you only have one bathroom in your home, a wet room may not be the way to go. A wet room as the sole bathroom in a home does not generally improve resale value and may deter some home buyers, as people tend to expect a home to contain at least one bathtub.
A wet room is also not ideal for use as a "powder room" as the entire room tends to be humid or wet (as is implied by the name!).
Wet room bathroom designs also tend to be best suited to modern home design because it allows you to eliminate some of the visual clutter, typical of a traditional bathroom, and instead focus the design on its functionality and quality of space. If you are looking to achieve a traditional aesthetic you may prefer a traditional bathroom design which will allow you to use more traditional materials (such as wood) for decorative features, and which may incorporate a bathtub as a focal point in the space.




---
Wet Room Bathroom Design
A wet room bathroom design can be the perfect solution for many homeowners.
If you are inspired to consider a wet room for your new home design or bathroom renovation, be sure to work with a qualified designer, licensed plumber, and experienced builder. A qualified team will ensure that your bathroom layout is optimized, that the design looks amazing, and that your wet room functions worry free because it is properly waterproofed and tiled.
Curious about a wet room bathroom for your new home design or home renovation? We'd love to chat.