Multigenerational living is on the rise in North America. In fact, there has been a 10% increase in the number of multigenerational households in the United States just since 2007! The estimated number of Americans now in multigenerational living households' numbers well over 50 million, and that number is expected to grow for several reasons.
With this increase in households enjoying multigenerational living, more and more home designers are creating modern home designs that focus on the specific needs of multigenerational homes.
In this article, we'll touch on a few of the reasons why multigenerational homes are becoming increasingly popular, and give you the best tips for designing your home for multigenerational living.
Why is Multi Generational Living Becoming More Common?
While multigenerational living has always remained common in some cultures and countries, a dramatic shift away from multigenerational living amongst families to the "nuclear family" was identified by policy analysts and social scientists among American and north-western European families in the first half of the twentieth century.
Today, there is a reversal in this trend. While the reasons for a shift to multigenerational living will be different for each family, some common reasons include the financial benefits that come from families sharing expenses, and the life-style benefits for households with 2 working parents who can depend on grandparents for childcare. Other families just value the quality time, and close bond that can be established between generations as a result of this type of living arrangement.
Planning for Success: The Right Home Design for Multi Generational Living
We know that the best modern home design for multigenerational living will not automatically mean that you're living situation will be easy breezy. Good communication, understanding the benefits and trade-offs, and respecting each other's boundaries are all part of making a multigenerational living work.
However, the right modern home design for multigenerational living can certainly help your family achieve the right balance of privacy, togetherness, and household harmony. So, what factors does the best home design for multigenerational living take into account?
Make Room to Relax
Multigenerational living involves family members from different generations spending a lot of their time together. And while plenty of quality time is one of the benefits of multigenerational living, we all need privacy and to spend time apart each day as well.
A great home design for multigenerational living will provide multiple spaces for different family members or different generations to enjoy downtime separately.
We recommend ensuring that for each generation in your home, you plan for a separate living space (such as den, living room, craft room, music room, or fitness space). Each space doesn't need to be "dedicated" to a generation or even to a particular function (your craft room can also be a space for yoga or home workouts). However, planning for enough flexible living space will allow everyone the opportunity to have the breathing room they need.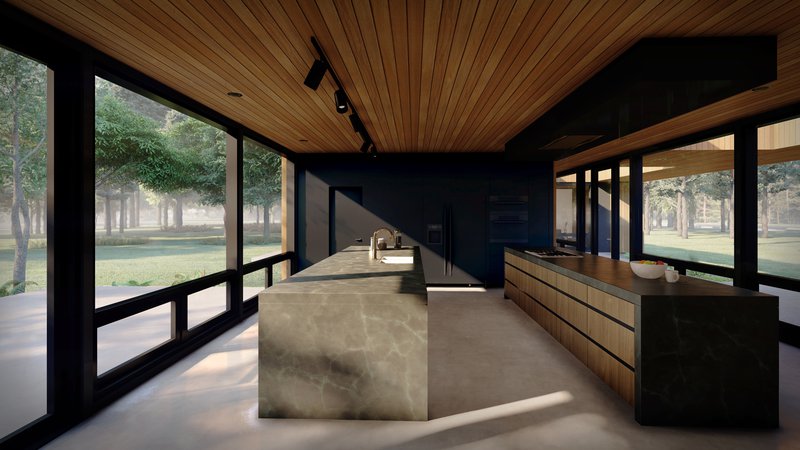 Kitchens Matter Even More for Multi Generational Living
At My Modern Home, we know that a great kitchen is important in every house design. However, an efficient, beautiful, and well-functioning kitchen and dining area is even more important for multigenerational living!
Why? A well-functioning kitchen makes it easier to manage food storage and food prep for more people (often, with different eating schedules and food preferences). A great kitchen for multigenerational living doesn't need to be huge – it just needs to keep in mind the following:
include a 'work triangle' between your refrigerator, sink, and cook top in your kitchen design;
ensure a sizeable clear surface for food preparation. Ideally, include more than one "work zone" for food prep so you don't bump elbows when working with family in the kitchen;
Plan for adequate food storage – for dry goods and refrigerator items. If you have the space, consider a second refrigerator in your pantry; and
Make it convenient to access the kitchen – especially from the dining room and garage (or the entrance closest to your parking area) – no one enjoys lugging groceries for miles.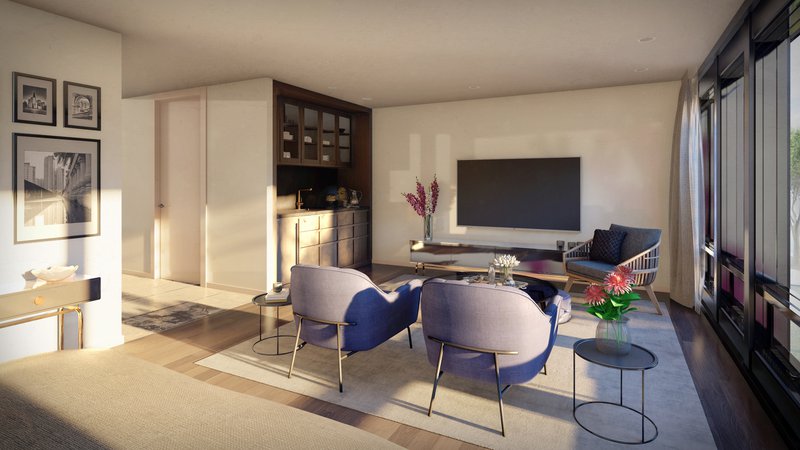 Separate Living Quarters Make Sense for Multi Generational Living
If you have the luxury of designing a large home for multigenerational living, consider separate living quarters for different generations within your family.
These living quarters do not need to include a full kitchen, and can even consist of just one kitted out master suite rather than several rooms. We recommend an in-law suite be added to your home plan and that it include:
An executive kitchen (small refrigerator, sink, coffee maker or kettle, and a microwave);
A sitting area and possibly a bistro table or other space for dining;
A barrier free washroom and closet; and
Large windows for ample natural light
If possible, try to design your floor plan so that this in-law suite is located away from the nosiest rooms in your home, such as the kitchen and family room.
Also ensure that this suite is accessible for those with mobility challenges or who may need mobility aids. We recommend locating an in-law suite on the main floor of your home, or providing space to install a home elevator near the suite if you plan on locating the in-law suite on a 2nd or 3rd floor.