There's no doubt about it – kitchens matter.
Not only do we store, prepare, and cook our food in this space, the kitchen is often the star "multitasker" in any home. On any given day, the kitchen may also serve as a space for kids to do homework, families to share meals (in place of the less-used formal dining area), friends to be entertained, crafters to spread out their materials for that next great project, and where neighbors pop in for an impromptu coffee date. It might even be where you sneak in a quick hand of online poker as you grab a midnight snack. No? Just me?
The kitchen, serving so many functions, becomes the center of any home. And for this reason, the quality of the space matters - perhaps more than any other room in the house. The focus of this blog is to touch on the aspects of design that not only create practical, useful workspaces but also those which make this room a place where anyone can be happy to spend hours each day.
The Basics
---
Firstly, the kitchen needs to function well for food preparation and cooking. Even a small kitchen, when well designed, can provide a novice home cook or a Michelin starred chef with a good workspace for meal preparation. The key aspects for efficient kitchen design are well known within the design community and include creating a 'work triangle' (between your refrigerator, sink, and cook top), providing adequate storage, and ensuring (when possible) a sizeable clear surface for food preparation.
But we're not here to talk about the obvious; We're here to tell you what takes a modern kitchen design from "it works" to "it rocks!"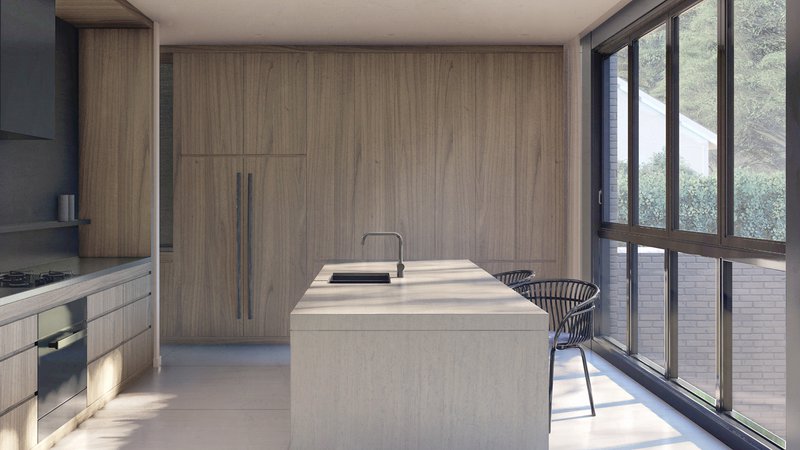 Creating a Drool-Worthy Kitchen
---
While a great kitchen layout and well-considered storage contribute to the functionality of your kitchen, they can't save a poorly designed space. If you don't want to spend time in your kitchen, it won't matter that you have space for your sous vide, air fryer, and Instant Pot in that fabulous appliance drawer. So, while every one of our designs includes the above noted design considerations, we go further…much further…to make our kitchens a worthy show piece for your home by considering all of the following.

Promote a bright, open, and visually uncluttered workspace.
From a practical perspective, it's difficult to cook in a dark, cluttered, or confined space. From a qualitative perspective, you probably don't want to hang out there with friends or family either. Bright, open, and visually uncluttered spaces contribute to your general well-being and simply result in a space that you want to be in.


Increase visual transparency.
Increasing visual transparency helps any space feel larger and more open. It facilities views, and increases daylight penetration into the kitchen. We achieve this increased transparency by:
minimizing or eliminating upper cabinets in the open areas of the kitchen; and
increasing the density of storage along the outer perimeter (with special attention on using this element to also define space and frame views).


Ensure connections to the outdoors.
Great kitchens have great connections and access to outdoor dining and entertainment spaces. This starts with diligent planning so that your kitchen has a good spatial relationship to your patio, courtyard and garden. Beyond that, the best ways to heighten this connection is to reduce visual and physical barriers between the interior and exterior spaces of your home by (for example) including floor to ceiling windows and doors, for the full width of the open space of your kitchen (and adjacent spaces). Say goodbye to single leaf man-doors and say hello to sliding or bi-folding glazed door system that enhance your visual connection and physical access to the outdoors. This also allows daylight to reach deeper into your kitchen. A connection between the interior and exterior spaces are ubiquitous to My Modern Home's design philosophy, so we get particularly excited about this element of kitchen design.


Facilitate fluidly of movement.
A convenient kitchen is a well-used kitchen. Plan to make it is easy to get around in the kitchen without continually bumping elbows. When possible, provide more than one access point in and out of the kitchen, and provide for more than one "work zone" so that working together in the kitchen can be comfortable and fun.


Ease of access.
You'll also want to ensure that it is convenient to reach the kitchen from other rooms in the house, with priority given to the dining room. Special consideration should also be given to outdoor eating areas, and kitchen support spaces such as pantry or butler pantry. It's worth noting that convenient access to the kitchen from the garage or main door is a key design consideration – you will be very pleased with yourself, for years to come, for making light work of bringing the groceries in and storing them away.


A room that inspires and performs.
Aspire for a kitchen design that feels less like a workspace, and more like a living room. A minimalist approach to form and material pallet contribute to this aspect.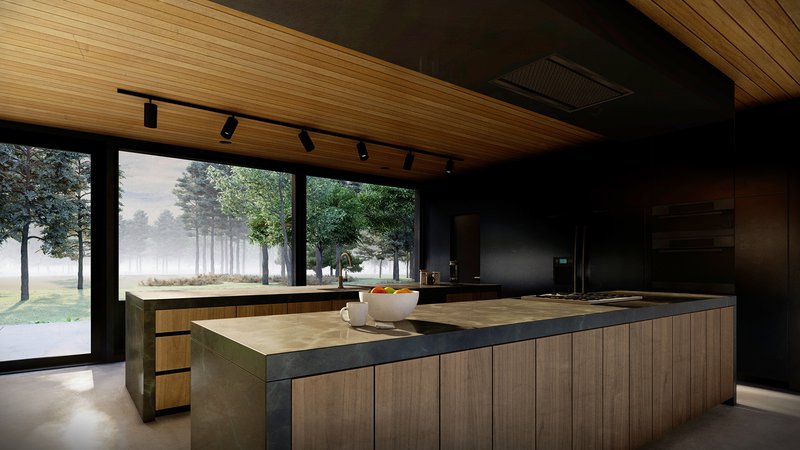 The Cherry-on-Top
---
We know that high-level concepts, like the ones we've shared above, are difficult to manifest when you don't have the actionable tools to execute them.

SO, here they are! We've included 7 specific recommendations that will take your kitchen from "Oh…" to "Oh! Wow!"
Recommendations:
Use natural or neutral materials. Materials such as wood and stone have a proven track record of longevity. Quality materials and workmanship will stand the test of time. Not only will they last, but they are not as likely to fall out of style.

Use color wisely. Avocado green fridges were the "it" item once-upon-a-time, but the color of the year changes… well… yearly! Incorporate color through accessories rather than in elements of the kitchen that you will not want to change in the future. With this in mind, you can be more comfortable increasing your budget on higher quality appliances, cabinets, or countertops knowing that they will stand the test of time.

Prioritize your budget. We suggest getting the fundamental elements of your kitchen right first, and then select the other aspects to fit the remainder of your budget. Set a higher priority on aspects of the house that can't be easily upgraded in the future. For example, you would be better off investing in your windows, doors, and cabinets during the initial build and in five or ten years upgrade your countertops to that Italian imported stone that makes you blush.

Ensure sufficient Lighting. Great kitchens incorporate lighting that works on three levels:
General Lighting: The lighting elements that provide even light across the entire room;
Task Lighting: Provides light specifically over the work surfaces. This typically includes fixtures over the main kitchen island and may include under valance lighting and lighting over your cooking surface and kitchen sink.
Ambiance Lighting: Lighting elements that may not be directly in or over your kitchen space, but which contribute to the atmosphere in the kitchen or adjacent spaces.
Ideally, these three lighting elements are able to be switched independently to maximize effectiveness and to give choice and variety to meet the multiple functions that a kitchen performs. Consider also new technologies such as smart bulbs and switches. These technologies are affordable and make this level of control simple and flexible for any space in your home.

Maximize cabinet storage. Select frameless cabinet boxes (also known as box type) instead of face framed cabinet boxes and incorporate full-extension drawer hardware.

Reduce visual distractions. Minimize or eliminate upper cabinets in the open areas of the kitchen and place them instead on walls that are intended to define the kitchen space or frame view from the kitchen. Select flat panel cabinet door faces and panels with integrated or concealed finger pulls. Eliminate the overhead hood fan over your cooktop, and replace it with a downdraft fan.

Continuity of materials. Select appliances and hardware that allow the materials and surfaces to be more seamless and less interrupted. Selecting panel ready appliances will allow you to install millwork panels that match and seamlessly integrate with the rest of your kitchen cabinetry. Some companies (such as Pitt Cooking) offer burners which become secondary elements on your modern countertops.
Use the same flooring throughout your main floor. This will help make the kitchen feel like it is a space worthy of lingering in, not a back of house functional space that one must hide from the company.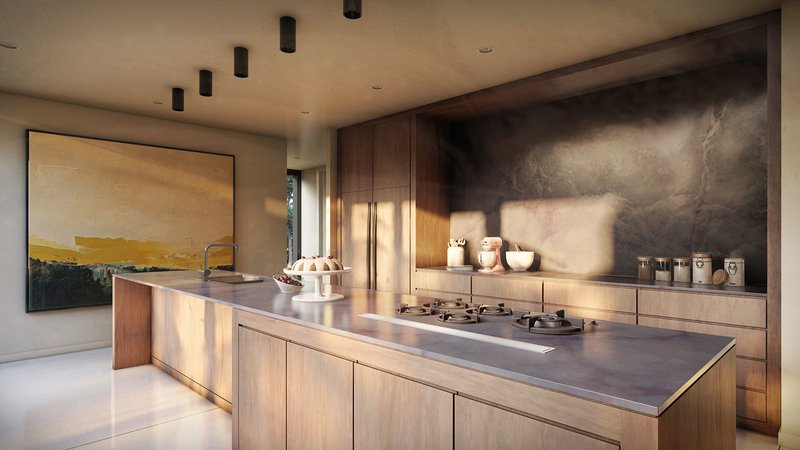 Table d'hôte – Dessert is always included!
---
As you can see, great kitchens don't happen by accident – you need a recipe for success. Each of My Modern Home's home designs already include all of the elements needed to ensure that you have the ingredients to whip up something fantastic when you build:

Bright, open, and visually uncluttered spaces;
Visually transparent design;
Meaningful connection to the outdoors;
Fluidly of movement;
Ease of access;
Inspiration and performance.



We Take Reservations!
---
Not only that, but we would be happy to be your sous-chef. Think of us as your architect on demand. We offer support and a guiding hand from the initial design, right across your home-building experience, including offering kitchen design services.