If you are considering building a new home, you may have asked yourself the question:
"Should I hire an architect?"
For most would-be custom home consumers, even considering this question is a luxury. Architecture, as it has been delivered until now, is for many reasons, an option for the one-percenters. It is estimated that only between 1% to 2% of homes built in North America are designed by architects. One of the goals of My Modern Home is to change that, and to make architect designed homes accessible to a wider range of people.
Most people have a only a vague notion about who an architect is, or what architects do. Unlike other professionals – like accountants, dentists, lawyers, or doctors – most people don't interact with an architect on a regular basis, if ever. (Have you ever heard anyone say "I was talking to my family architect the other day and…"? Nope – didn't think so.) This unfamiliarity also means that most people don't know why architecture matters, or the value architects and architecture strive to bring to the built environment.
To help you understand why we believe architecture matters, and to understand why My Modern Home stands out from the pack, it helps to understand a few things:
who an "architect" is,
what training to be an architect entails and the resulting qualifications,
what the goals of an architect are, and how these goals naturally differ from those of draftspersons, developers, and builders,
when to hire an architect vs a contractor, engineer or draftsman
what all of these things mean for you – the customer.
In this blog we'll run through these things at a high-level, and share how My Modern Home strives to provide the value of hiring an architect in a much more simplified, predictable, and cost effective package.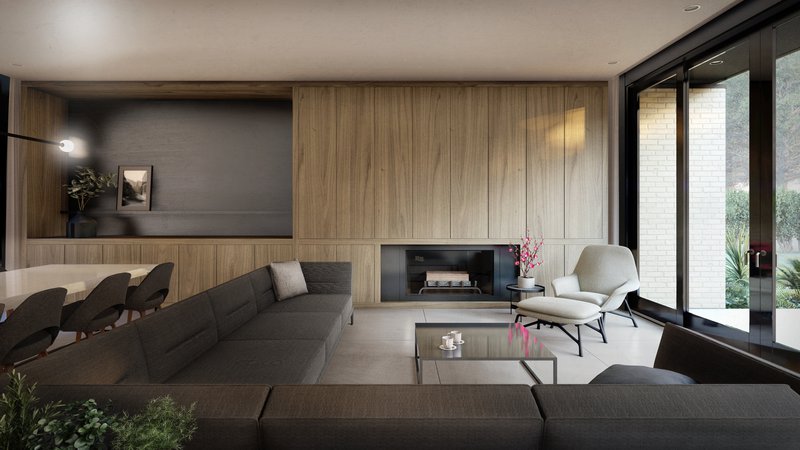 Training
---
Without getting into the nitty-gritty of all-nighters in the design lab, or soul crushing experience of an architecture student's first design critique, it is fair to state that training to be an architect is a rigorous process.
Most architects in the US and Canada, in addition to first completing a qualifying degree to apply, complete a Masters of Architecture degree (M.Arch) from an accredited university.
While completing an M.Arch involves training on technical aspects of building and construction, architects are trained fundamentally in the discipline of design. Like other professionals such as lawyers and engineers, a M.Arch is about learning how to view the world through a different lens, and how to solve problems. Students are challenged to see, interpret, and reimagine not only the built world, but the things that influence and shape how people live in this world.
Following graduation from a M.Arch program is a lengthy mandated internship (in the United States, at least 3 years) aimed at building practical experience in the profession. This internship is followed by a rigorous series of exams (which in 2019 in the U.S. had only a 52% pass rate) ensuring that a high and broad level of expertise is achieved. The average length of time to become an architect in the US from the commencement of studies is 11 years.
Again, most people don't have the opportunity to become familiar with the practice of architecture, in part because there are so few practicing architects in the U.S. compared to other professionals. For example, there are currently only 115,316 accredited architects in the U.S., compared to 1.33 million lawyers (insert lawyer joke here).
As with a trusted lawyer or accountant, the greatest value that an architect, as a professional, offers is not in the physical documents that they produce, but rather in the training, knowledge, and expertise that they bring to bear in producing the documents which solves (or prevents) problems, communicates requirements, and helps their client achieve their goals. The physical documentation, while still important, is the embodiment of rigorous training and years of experience.



Traits of an Architect
---
Architects generally have certain common traits which they bring to bear on their projects. These traits influence the design process, and ultimately shape the work product architects produce.
Creative: Architecture is a creative discipline, and as a result appeals to creative people. Beyond the apparent creativity of design, architects look for different ways to approach problems and challenges; seek for new solutions, and aim to drive innovation.
Passionate: Architects are passionate about design. This passion is about more than aesthetics. It is driven by an underlying desire to better the lived experience for the people experiencing the design and the environment it is a part of.

Idealistic: The underlying objective of an architect is to make beautiful things and places, while making them the best they can be for everyone…including the client. Architects believe that their primary responsibility is to the public, and that their work impacts and influences culture. As a result, there are broad unspoken objectives that underlies all projects – to imbue meaning in design. This meaning is different for each architect, but for My Modern Home this is about increasing accessibility of design and the ability of our designs to support an ever-changing lifestyle. The result of imbuing work with meaning and intentioned goals is that architect-led projects exceed the bare minimum requirements and in turn contribute more greatly, in a more meaningful way.

Lateral thinkers: Architects are skilled problem solvers. An architect is able to work client goals, technical and scope requirements, and design challenges and opportunities of a project in a creative manner and develop the intersection of these facets into a design which is more than a sum of its parts.



What does this mean for you - the home owner?
---
The extensive and rigorous training, and resultant traits and qualities of an architect means that architects approach home design differently than developers, draftspersons, or custom home builders.
When architects approaches home design, they consider more than square footage and number of rooms - they aspires to realize a broader, more meaningful lived experience for both the residents of the home, but also those who experience it as visitors or passersby. Architects are not only interested in how to integrate rooms, but how to create spaces that make you feel at home, that support your lifestyle, that promote family connections, that increase your investment, and that function today and in the future. Architects seek to do this in an effective and efficient manner – smaller doesn't mean less.

Architects tend not to be interested in what everyone else in the industry is doing, as a way of competing – as problem solvers, creative, and lateral thinkers architects strive for solutions that work better than what is already offered in the marketplace. Rather than competing in the home building industry, architects tend to drive design innovation that later become trends adopted by developers and custom home builders.



Different training means different strengths.
---
If you are planning to build a home, you may ask yourself - "Should I hire an architect or draftsman?" Or perhaps, "Should I hire an architect or engineer?" Often, then answer is both! This is because different pro
We believe that the best outcomes are achieved when each contributing party focuses on the aspects of a project which best leverages its strengths. The result is a team that builds something better together than any one member of the team would achieve alone.
Below we'll share with you some key differences between the approach of an architect, a builder, a developer, and a draftsperson in designing, planning, and constructing a home.
Builders
Builders and other members of the construction industry possess local construction knowledge and expertise that is key to any successful home build. These important construction-focused skills can be contrasted with architects, who are design-first focused. Architects solve design challenges, whereas builders solve construction challenges. Whereas architects seek to create home designs which aspire to saturate everyday life in meaningful ways, contractors and developers are build-focused - seeking optimization and efficiencies related to the build, which can often dilute the potential of design.
An architect's understanding of construction helps us make decisions that result in more beautiful and more functional spaces, where as a builder's and developer's understanding of construction helps them make decisions related to the erection of a structure and the installation of products. Builders possess the skills to effectively construct and realize the architect's vision.
Some builders employ architects and interior designers as part of their full-time staff. Other builders work in collaboration with independent architects or architecture firms to construct their client's homes.
Developers
Developers can be thought of as builders on a high volume scale – similar to the difference between a carpenter and a furniture manufacturer. Developers bring the same skills to bear by engaging all the required members of the construction industry to complete home construction. However, whereas custom builders often provide their clients with greater choice (both in terms of home plans, but also in terms of fit and finish), developers deliver a large volume of homes to customers in a cost-effective manner. Customers can choose between a set number of plans per community, with some minor "customizations" sometimes possible, and usually chose between set finishing "packages". While this is a good option for many homebuyers as it can make homes more affordable, it comes at the expense of choice and of the integrity of design and (oftentimes) quality.
The distinction between a developer designed and constructed home versus a home designed by an architect then constructed by a custom builder can be likened to the difference between "fast fashion" and a bespoke suit. Companies, like H&M, that make fast fashion stay in business by meeting your needs for a little while, knowing you'll be back to buy more. Likewise, developers know that you will not stay in a starter home or your subsequent move up home, either, forever – you'll need to buy "more" when your needs outgrow your home. An architect designed home is like a bespoke suit – it is acquired mindfully, and is designed and constructed to see you through life's important moments for decades to come. Both of these ways of delivering homes (and fashion) have a role to play in our economy and culture, but one cannot be substituted for the other.
Certain developers may have an architect on staff, but they generally do not work with independent architects or architecture firms, as part of the value proposition that developers are able to offer by providing high-volume construction requires much less customization than other models of home building.
Draftsperson
Draftspersons are trained in how to document the manner in which a building is put together – ie: how it is constructed. Whereas builders and trades within the construction industry are experts at physically assembling a building, draftspersons are trained experts in writing the instruction manual that builders and tradespersons use. They are able, for example, to document minute details of a window assembly, or represent how a section of wall will be constructed.
Draftspersons may take a class or two in design during college, but they are not trained in design. So often, the question "Should I hire an architect or draftsman?" in fact means hiring both. In some firms, architects design homes, whereas draftsman complete the working drawings for construction.
Most builders and developers also engage draftspersons on their staff to complete the working drawings for construction of their homes.





Why My Modern Home?
---
In the above we've outlined some of the reasons that architects are better suited than other service providers in delivering exceptional home design – training and experience which informs goals and values.
Each of the experts noted in this post have an important role in the home construction industry. We simply believe that architects are best positioned to deliver exceptional design.
My Modern Home strives to provide exceptional design in a number of different ways in order to suit our customer's individual goals.
One option is to purchase a pre-designed house plan from our collection. Each of the homes in our collection features a range of floor plan options, and each of our modern home designs can be customized for you by one of our in-house architects. This option allows you to have your home plan ready to take to your builder in as little as a matter of days.
My Modern Home also offers full custom-home design services. Our business model allows us to provide design and consulting services that are "just right" for each client. Some clients engage us to assist from start to finish of their project (the more traditional architecture model), and some hire us to complete "schematic design" options to bring to a builder who will complete the final design, specifications, and working drawings. (We've also provided every level of service in-between!)
Our architects have extensive experience working collaboratively with builders and other construction professionals to make the process of building your new home as smooth and efficient as possible.
Each of our modern home designs are designed by an architect with a minimum of thirteen years of experience in the industry. And our architects are passionate about design, period.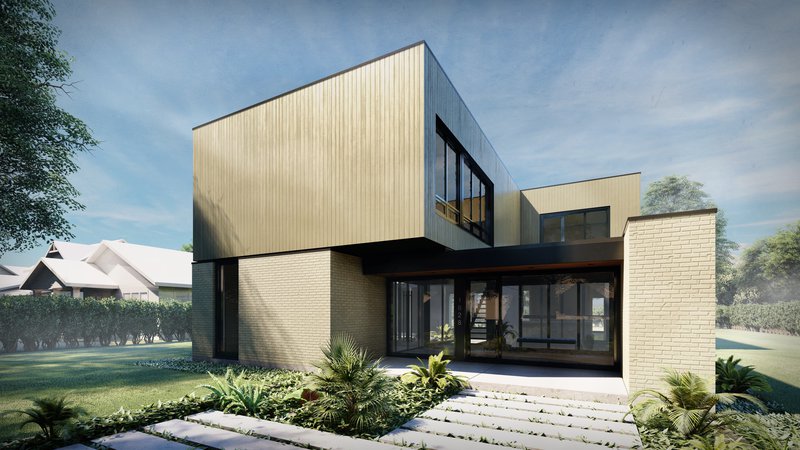 We make an architect-designed home possible.
It's a fact: an architect-designed home is a luxury. The cost, time, and risk, inherent in conventional architectural services render that option unachievable for most would-be consumers. My Modern Home is re-inventing the delivery of architect designed homes to change the accessibility challenge.
We believe that our product-based approach (vs. service-based approach) greatly reduces the cost and time associated with the traditional service-based model of architecture. And although My Modern Home doesn't provide a traditional "service-based" model, customer service is still core to our values. The architects who have designed our collections are employees of My Modern Home – so you can still access our consulting services if you wish for customizations or additional support and actually work with the architect who has designed your modern home plan.
You get the best of engaging and architect – without the risk.
One risk of hiring an architect under the traditional model is that you do know what your future home will look like until the design is complete. You meet with an architect, sign a contract, and then have a handful of meetings while the architect completes their vision for your house. With My Modern Home you get to see exactly what your home design, and floor plans, will look like before you click the "purchase" button.