When you think about building healthy habits and developing a healthy lifestyle, you might immedietly think about spending more time at the gym or putting healthier foods into your grocery cart.
While both of these habits can be good contributors to a healthy lifestyle, you may be surprised to learn that certain design elements in your home can also contribute to well-being and support you in your wellness efforts.
In this article we'll outline a few of the aspects of home design that impact well-being, and provide some insights into how you can incorporate aspects of modern home design to promote better over-all healthy.


Promote a Healthy Lifestyle Through Great Home Design
A home design that promotes a healthy lifestyle is one that promotes physical, mental, and spiritual well-being.
While how to best accomplish these aspects of health is personal to each of us, some common ways that home design can help us achieve a healthier lifestyle include:


Access to Ample Natural Light
Access to natural light boosts vitamin D production (which is key for a healthy immune system) and is important to maintaining a healthy circadian rhythm and sleep patterns. Studies have also shown that access to sufficient natural light has positive psychological benefits.
The easiest way to ensure ample natural light in your home today is by incorporating the largest windows that your budget can afford. Modern home designs are typified by large, expansive windows, so certainly consider a modern home plan for your next home.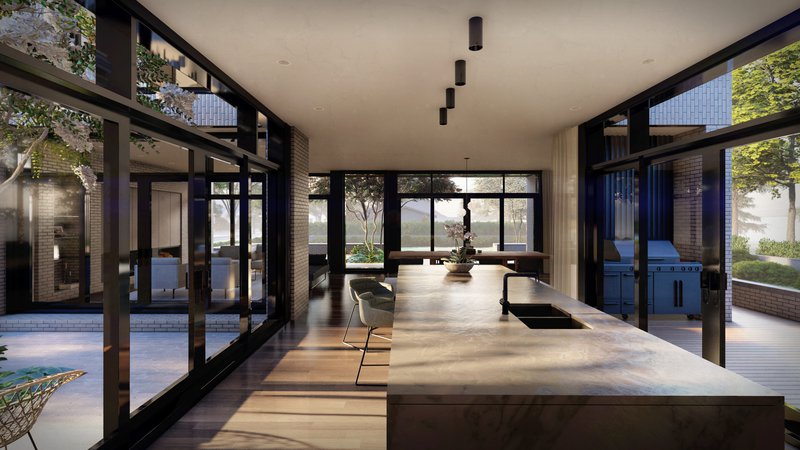 Create a Healthy Kitchen
While your kitchen will only ever be as healthy as the foods you stock it with (you can cook KD on a gourmet range if you want to) smart kitchen design that makes it easy for you to prepare and store healthy (and delicious!) food choices make it easier to eat healthy.
You don't need a giant kitchen to accomplish this goal, though we have noted a trend towards large kitchens to accommodate cooking and entertaining at home.
The key aspects for smart kitchen design include creating a 'work triangle' (between your refrigerator, sink, and cook top), providing adequate storage, and ensuring (when possible) a sizeable clear surface for food preparation.
You'll also be more inclined to prepare food at home if your kitchen is a room worth spending time in. We recommend:


Providing for great natural light by incorporating large windows, and providing adequate general and task lighting to make cooking in the evening or winter months easier and more enjoyable.
Creating an uncluttered and visually transparent space. Keep upper cabinets on the outer walls of your kitchen only and use appliance drawers or your pantry/butlers' pantry to store countertop appliances.
If possible, provide more than one work zone so that it's easy to work together in the kitchen.


To help you get the most out of your healthy groceries, look for refrigerators that include dual evaporators or dual-compressors, which are both technologies that prevent food from spoiling.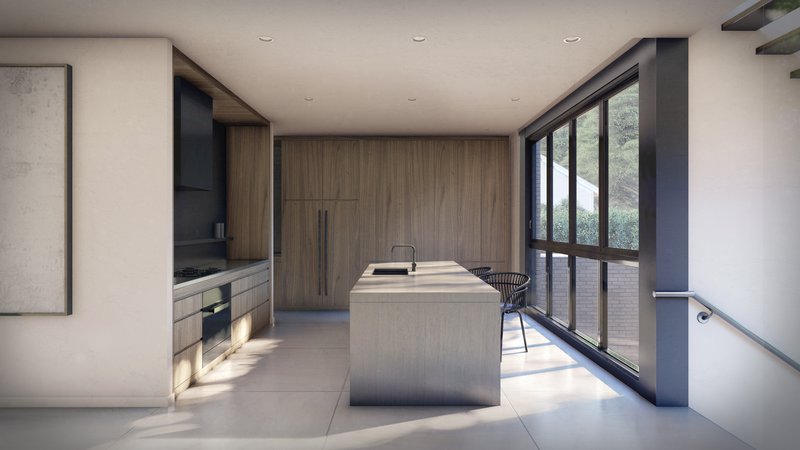 Support Physical Activities
Being physically active is one of the best ways to improve overall health and well-being.
Physical activity not only improves physical health by improving strength and mobility and reducing inflammation in the body, but also supports mental health. Studies show that exercise improves mental health by reducing anxiety, depression, and negative mood and by improving self-esteem and cognitive function.
With all these great benefits, it's important that your home design support being physically active.
Of course, one of the most obvious ways to support physical activity at home is to include a home gym or flex room in your home design.
If you plan a home gym, we recommend a minimum size of 10' x 12'. A well-lit, well-ventilated design is important for your home gym, as is choosing appropriate flooring. Using a high-quality hardwood floor for your home gym will allow it to not only function as a gym, but to be used as flex room, spare bedroom or home office to a future buyer. Rubber flooring can also be used for a dedicated gym space and is especially well-suited for physical activity programs that involve lifting heavy weights, as the flooring won't be damaged if plates or dumbbells are dropped.
Many of us do not have the luxury of space for a dedicated home gym in our home design. A flex room or spare room can work well for this purpose. Design your spare room with a murphy bed to provide a clear floor space for workouts. Most exercise programs can make use of a yoga mat in place of a bench if you are lifting weights.
Your home can also support being physically active by providing adequate and smart storage for any fitness equipment you require. Storage for skis and bikes looks much different than storage for dumbbells and free-weights, for example. If you are designing a home, take your fitness equipment into account when you are completing your home design.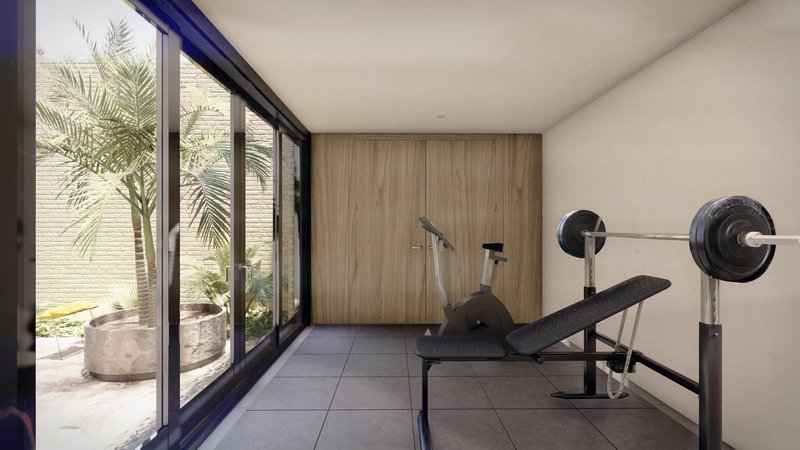 Sleep Matters!
Sufficient, good quality sleep is a key component of mental health and the simple fact is that many of us are not getting enough!
Lack of sleep, or sleep deprivation, can cause fatigue, poor concentration and memory, mood disturbances, impaired judgement and reaction time, poor physical coordination and is even ups the risk of heart disease, cancer and depression.
Your home design can help or hinder your quest for a good night's sleep. Sleep better by taking the following into consideration in your home design:

Bedroom Placement – ensure that bedrooms are placed well away from public spaces such as the kitchen and living room. Physical separation will reduce noise in the bedroom.
Circadian Rhythm – by considering the sun's pattern across the day and seasons, your bedroom design can help your body better follow it's natural circadian rhythm. Place bedroom windows facing the sunrise.
Window coverings and smart technology can be a powerful sleep aid. Install blackout curtains in your bedroom, and pair them to a wireless opener. Set the timer on your opener for your wake-up time and allow natural light to wake you instead of an alarm clock.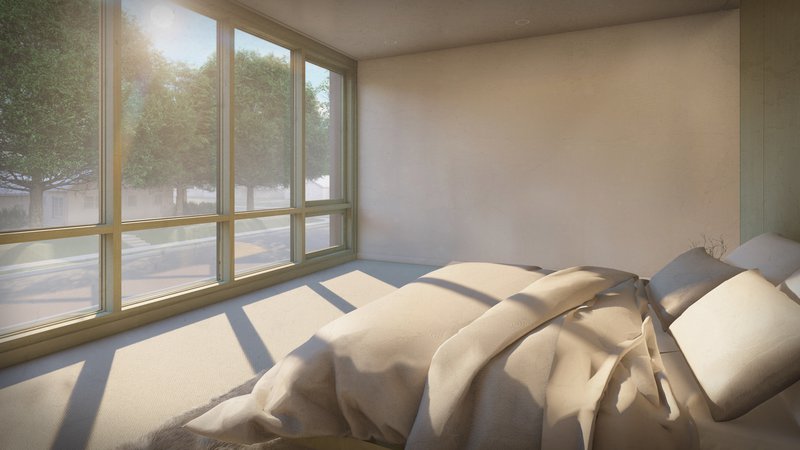 Add a Green Space to Your Home Design
Time spent connecting to the natural environment helps in emotional regulation and improves memory functions, has been shown to reduce stress by lowering the stress hormone cortisol, and has even been found to increase our problem-solving skills and improve creative abilities.
Not only does including a green space in your home design allow you to take advantage of these many health benefits, but a green space can also be a strikingly beautiful element of your home's design.
While the most obvious way to connect to nature at home is with a beautifully landscaped yard and outdoor living spaces, even small urban lots can accommodate a beautiful green space.

Take advantage of screens, fences, and planted landscaping to create a private green retreat even in a busy urban area;
Use large or floor to ceiling windows to connect to nature from the indoors;
Use a courtyard home design to create a usable outdoor space year-round. Courtyards are sheltered in cold or windy weather and provide protection from extreme heat and sun in summer months;
Plant an indoor garden, green wall, or use potted plants in your interior design to get a dose of green and fresh oxygen.