Why is living room design so important? While the living room can sometimes be a second thought after spaces like the kitchen, the living room is another one of the most important rooms in your modern home. Not only does the living room create an important space for flexible home design, it is also where many families spend the most time together, and where we tend to host family, friends, and neighbors.
After outlining all of the "architectural" considerations (like floorplan, structural considerations, windows, etc.) in our previous blog, How to Design the Ideal Modern Living Room, we received great feedback from readers who found it very helpful. But – it was clear that we had left them wanting more!
Many of our readers wanted to know how to choose interior design for a modern living room! In this article we continue the conversation about great living room design and focus on the 6 steps that will help you achieve a modern living room worthy of a magazine cover.


Step 1:
Find your Inspiration
Because of the vast selection of fabric, furnishings, window coverings, and décor, some people find home decorating to be overwhelming, and often aren't sure what style will suit them and their home.
If you don't already have a crystal-clear vision for your modern living room interior, we recommend starting your interior design plans off by getting inspired. While you can get design inspiration from furniture and décor stores and from hard-copy magazines, it is also easy to find almost unlimited design inspiration online. Resources like Houzz, Pinterest, and Instagram will provide you with enough eye candy to give you a toothache, all from the comfort of your sofa.
Collect and save the images you love (whether it is on Pinterest, in the photos on your phone, or the analog version involving scissors and tape – they all work!). Not all the images will be the same, but you will almost certainly find yourself drawn to a certain type of design style and colors.


Pro-Tip: Take a peek in your closet, too! What colors do you love to wear? Are there any that you avoid? What about pattern and texture? You will likely have similar style preferences for your home's fabrics and furnishings as you do for your wardrobe.


This can be a very fun stage of the building or renovation process. Try not to stress – there is no "wrong" answer when it comes to decorating or décor. As long as you love it, and the furniture and décor that you chose fit your lifestyle, you are doing great!


Pro-Tip: You can follow My Modern Home on Pinterest and on Instagram for Modern Interior Design inspiration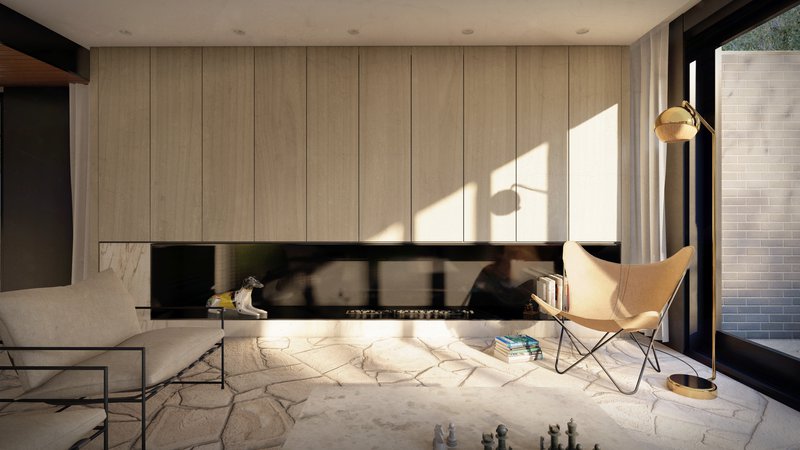 Step 2:
What Type of Living Room are you Planning?
We discuss a lot about the fundamentals of function and planning in our blog, "How to Design the Ideal Modern Living Room". We recommend taking a quick read of that article as well, particularly if you are planning on building a new modern home or if you are undertaking an extensive renovation of your current home.
This article also talks about the different considerations for "duel" function living rooms (for example, in homes with only one living room where you use one living room for family time and for entertaining), versus living rooms that will have only or primarily a "public" (ie: entertaining guests) function. Duel function rooms create different considerations than living rooms that only need to serve a single ("private" or "public") function.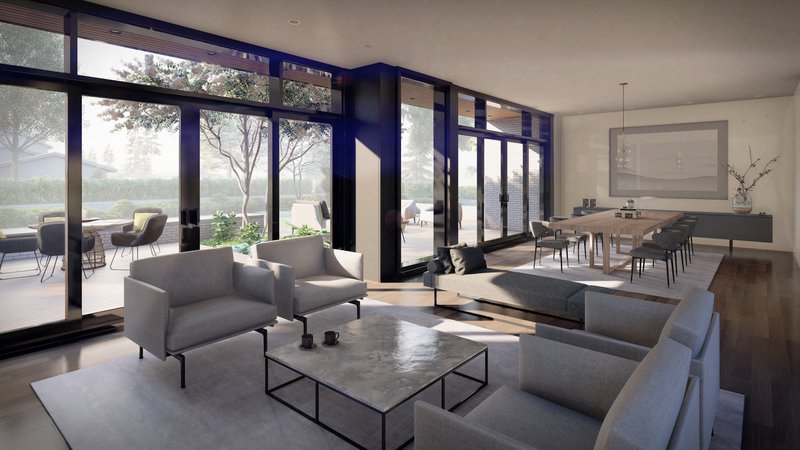 Step 3:
Plan your Layout
Many people make the mistake of falling in love with a sofa or chair before planning the layout of their living room. This can leave them with either an awkward layout when the furniture doesn't fit just right, or disappointed because they need to choose another piece that fits better.
We recommend avoiding this conundrum by planning your layout and determining the ideal size or size range for your stable pieces of furniture before you shop.
Consider the size of the room and how the furniture pieces will fit together in the room. You'll want to ensure that there is sufficient seating for your family, and for hosting guests. You'll also want to consider circulation in the living room, and ensure that the layout enhances your use of adjacent spaces to maximize the flexibility of your floor plan.
There are many online tools and apps that you can use to help you determine the best size of various furniture pieces for your room, and to see help you decide on the best layout for the furniture in your living room. Take advantage of these tools, or go old-school and get out the measuring tape and some masking tape to complete the layout IRL (assuming your home is already constructed).


Pro-Tip: Determine the layout for your living room and the best size for each furniture piece before you go shopping! This will not only help you find the "right" pieces more quickly, it can also save you from buyer's remorse when the sofa you fell in love with finally arrives and it just don't "fit" the room.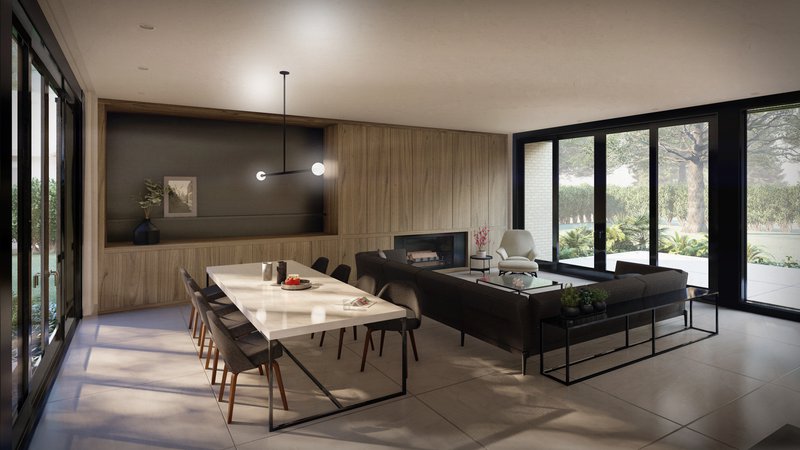 Step 4:
Choose Your Key Furniture Pieces
Next it's time to do some shopping! Start with the "key" pieces of furniture that you will build your living room around. Usually, this is your sofa and chairs.
Go back to the first section of this blog and think about the functions that the living room you are focusing on will serve. How formal or informal do you want the pieces to be? Do they need to be super comfortable for relaxation, or more suited to formal entertaining – or somewhere in-between?
In a casual family room, or in a home that will only have one living room which needs to serve a dual purpose as entertaining space and family hang-out, sofas and other seating should be beautiful, but also comfortable and able to withstand a spilled bowl of popcorn.
A formal living room can accommodate less robust furniture and finishings – this is the place for a silk-velvet sofa and hand-woven area rug.
Also go back and look at your design inspiration. Are there any styles of furniture you were drawn to?
My Modern Home recommends choosing the best-quality key furniture pieces that your budget permits. We also recommend keeping the style and color as timeless as possible. A good quality sofa can easily last 10 or even 15-20 years without looking dated or worn. Not only that, but the quality will uplift the other items in your room, too. Well worth the investment!
As trends shift, you can update the look of sofas and chairs with fun and inexpensive pillows and throws, or other accessories in your room like area rugs and art (more on that below).


Pro-Tip: Choose the best-quality key furniture pieces you can afford. Keep them timeless, and have fun with accessories.


Remember – before you add to cart review your layout and make sure that the furniture will fit the layout of your room.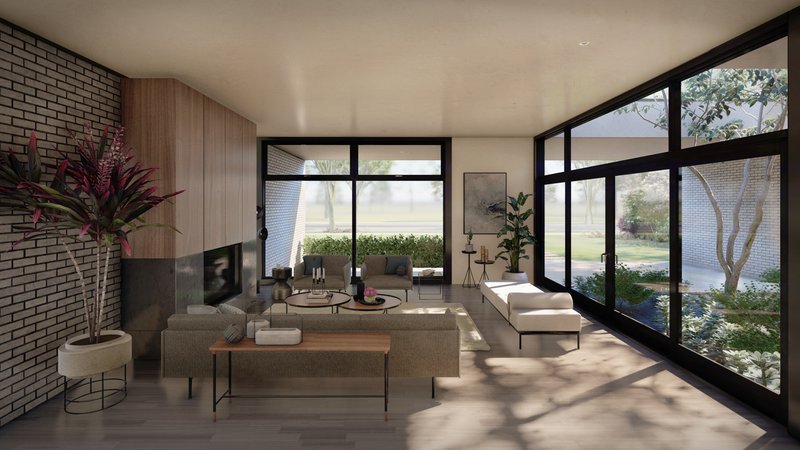 Step 5:
Choose Secondary Furniture Pieces
Now that the key pieces of furniture have been decided on, you will want to chose accessory furniture such as a coffee table, side tables, accent chairs (if space permits).
Depending on your flooring and your room, you may also wish to purchase an area rug. Area rugs can be helpful not only in setting a style or mood for your living room, but also in helping to define the area of the room itself, particularly in open concept floor plans.


Pro-tip: Use area rugs to define the boundaries of your living room (and other rooms in your home). This is especially effective in open floor plan homes.


These pieces of furniture can be updated more often than key pieces if your style changes, or if you decide to reconfigure your room.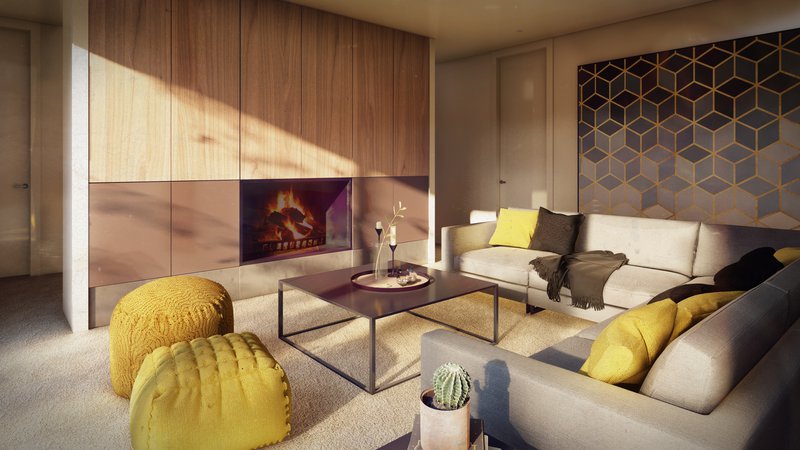 Step 6:
Accessorize!
Accessories are the perfect place to let your personal style shine through.
Art, throw-pillows, lamps, and décor items help to set the tone for your modern living room – from formal to casual, from boho to minimalist modern.
Accessories are also fun because they can easily be updated to change the style of your room as your tastes and preferences evolve.
Remember to include different sizes, shapes, and textures to your accessories to create visual interest.


Pro-Tip: Check out Pinterest or other online design sources to learn how to "dress" your surfaces – whether it is your piano, coffee table, mantle, or side-table. Accessorizing these surfaces will really make your personal taste shine through.



Keep in Mind
We've got a few other things to keep in mind as you plan your modern living room interior design.
When purchasing window coverings, keep both lighting and privacy in mind. Good quality window coverings are not inexpensive but are generally more durable and more attractive than budget options. Be sure to keep room in your budget for this item.
Will you have a television in your living room? If so, consider where it will fit in your layout before purchasing furniture. Consider also if you wish to wall-mount your TV, or purchase a piece of furniture dedicated to the TV. If you want to keep the look of your living room more formal, consider some of the new options on the market for concealing a TV within your living room.
Don't forget lighting! Living rooms often have less overhead lighting than other rooms like the kitchen and dining room. Consider in-ceiling lights on dimmers, but don't forget floor lamps and table lamps too. Not only can they be attractive accessories in your living room, but a variety of light sources also provides more options and creates a great ambiance.


Now that you have the 6 steps needed to master modern living room design, we hope that you are ready to put these steps into action, and have fun with your interior design plans!