For many families, living rooms are the place where life happens!
Not only do living rooms serve as a place to relax and connect with family, this is also the space where we host friends and neighbors - whether it is for a formal holiday cocktail party, a baby shower, or for a weekly Thursday night-football screening.
Given that the living room serves a central place in both family life and in the social sphere it's important that the space functions well, and functions flexibly to serve so many different purposes. As we've outlined in our blog, The Top Benefits of Designing a Flexible House Plan and How to Achieve Them, flexible home design is a key element of modern home plans – and in few spaces is this flexibility more apparent or more important than in modern living room design, and in the relationship between the living room and adjacent spaces.
In this blog we will break down both the form and the function of a modern living room – providing tips on how to ensure that your living room functions well, and flexes to serve both your family time and social time.


What is the main function of your living room?
The first question to ask yourself when preparing to design (or re-design) your modern living room is the function that it will serve in your home. This will not only help you chose furnishings and a design style that will fit the function of your living room, but also influence other design considerations, such as where you situate your living room or living rooms in relation to other spaces in your home and what other design elements to include in your modern living room design.
Many smaller homes have only one "living room" which serves not only as the space where neighbors and guests are hosted, but also serves the function of a more casual "family room" where families kick back to watch TV and to hang out generally. In some small home plans, like mine, it's also as a general space where life is truly lived – young kids play with their toys, music practice happens, homework is completed at the coffee table, pizza is consumed while watching a movie, and gifts are opened during birthday and holiday celebrations.
This duel "public" and "private" function creates different considerations than in a large home plan with more than one living room, where the formal and informal functions served by the living room can be accommodated separately.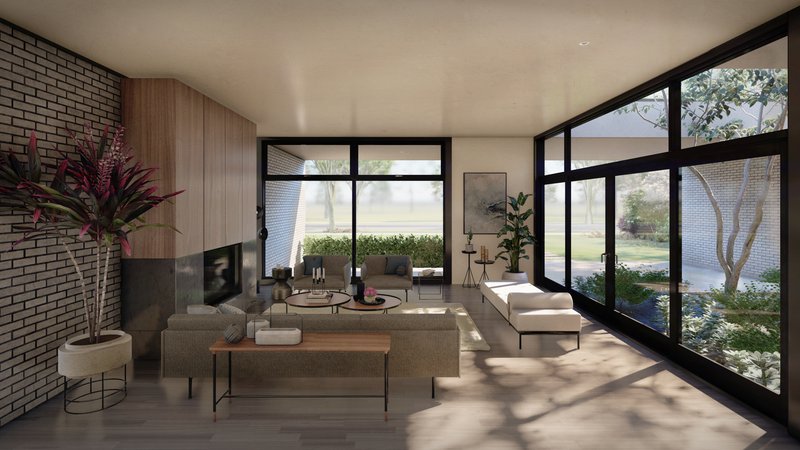 Living Rooms and Floor Plan Considerations
If you are working with a home builder or architect, or are shopping for a modern home plan online, consider where you want to situate your living room or living rooms in your home to best suite your lifestyle.


Small Modern Homes
Whereas you may wish to have a formal living room removed from the kitchen and dining area, it is often a great idea to have a dual-purpose living room adjacent to your dining area, and close to your kitchen. Especially in a small modern home plan, a well-designed living room can allow all the adjacent rooms to not only feel larger, but also to function larger than the actual square footage would suggest.
You can extend your dining area into your living room to accommodate larger gatherings where meals will be shared, and conversely, extend your living room into your dining area or adjacent entrance or circulation spaces for less formal gatherings. Keep this in mind before you design a sunken living room into a small modern home.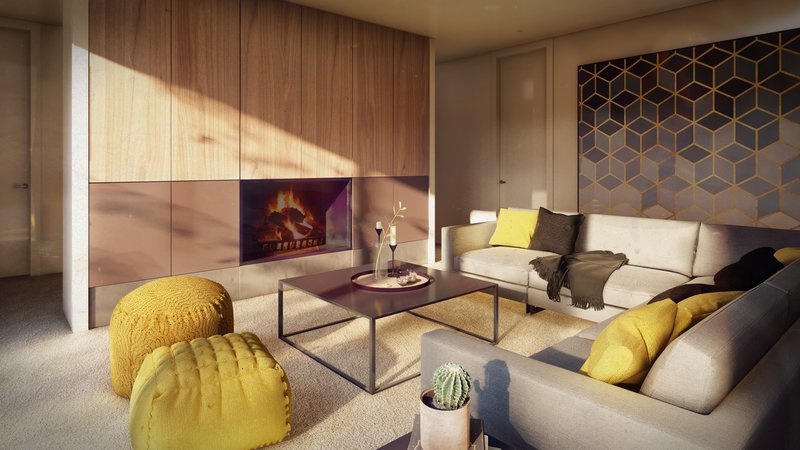 Large Modern Homes
Some homes have the luxury of space and can accommodate multiple living rooms.
Often, one or more formal living rooms situated in the public sphere of the home (for example, adjacent to the front entrance or dining area) and one or more less formal family rooms or media rooms, often situated on a second floor or in the basement, adjacent to bedrooms or a rec room.
Consider ensuring that the family room and informal living room are out of site of very public spaces such as the front entrance, home office, or front windows. This way, you will feel more comfortable unwinding in this space, and any messes left out by the kids (or yourself!) will be out of sight when company comes. Doing so also helps with sound attenuation, which will be especially helpful if you work from home, for example.

More formal living rooms can be situated adjacent to the public spaces of your home. Often, placing a formal living room at the front of the home works well as large windows at the front of the home not only provide great curb appeal, but provide natural light in the living room and allow the light to penetrate to adjoining rooms.
If you have a less-private urban lot or are building on a noisy street, consider a modern home plan with a courtyard at the front of the home (sometimes referred to as a forecourt). This way, you can still build a modern home with large windows but also enjoy privacy and sound attenuation from street noise.
Homeowners designing a home (or undertaking a major renovation of an existing home) with more than one living room will want to apply the considerations in this blog to each room, first considering the main function that each individual living room will serve, and how the function impacts design considerations.

*Pro-Tip: Situate your family room adjacent to a private outdoor space, such as a courtyard or your back yard. Connection to the outdoors improves well-being, and windows or patio doors will provide great natural light for your room. A patio also allows you to expand the size of the room in temperate weather.