Often, a home office is an overlooked part of a new home design. Relegated to a small space off the front entrance, often with little or no natural daylight, these spaces would be better suited to a hall closet than a space to generate productive work.
At My Modern Home, we know that modern home offices can be so much more than a second (or third!) thought space.
If you work from home, bring work home, or would like to ensure you have a home office that will be attractive to future buyers, it is important to make your home office design comfortable, and a space that fosters productive and creative workflow.
Read on to find out why a good home office is important, and how to design a comfortable home office.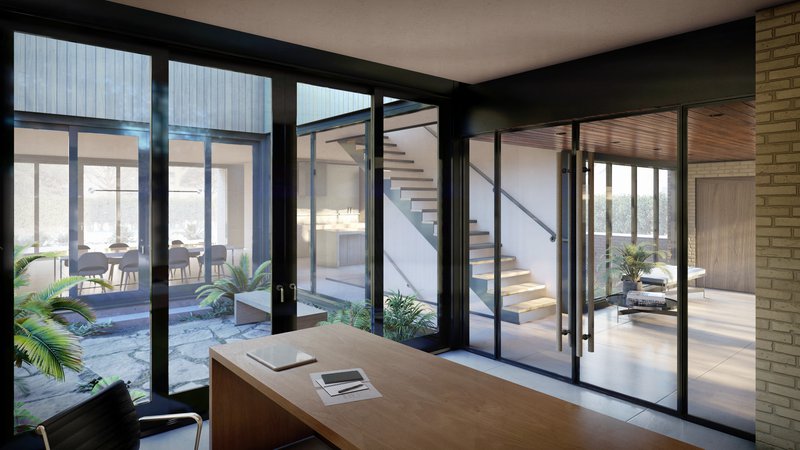 Why Is a Good Home Office Important?
A good home office is important, especially if you plan to work from home full time.
Not only do we each deserve to spend time in a space that makes us feel happy, but a well-designed home office will increase productivity and job satisfaction – making us more effective at our jobs and (hopefully!) giving us more free time to enjoy hobbies, fitness, and time with friends and family.
Even if you don't plan to work from home full time, a good home office will likely be important to future buyers, and raise the market value and improve your competitive advantage against other home sellers in your neighborhood.
This is because many organizations such as Shopify, Apple, and Microsoft (not to mention countless others, both large and small) are responding to the demands of a workforce that wants to work remotely (on a part or full time basis), and have launched long-term remote work plans for employees.
In order to ensure that folks can work practically and efficiently from home, expect to see comfortable home offices become the norm in modern home design.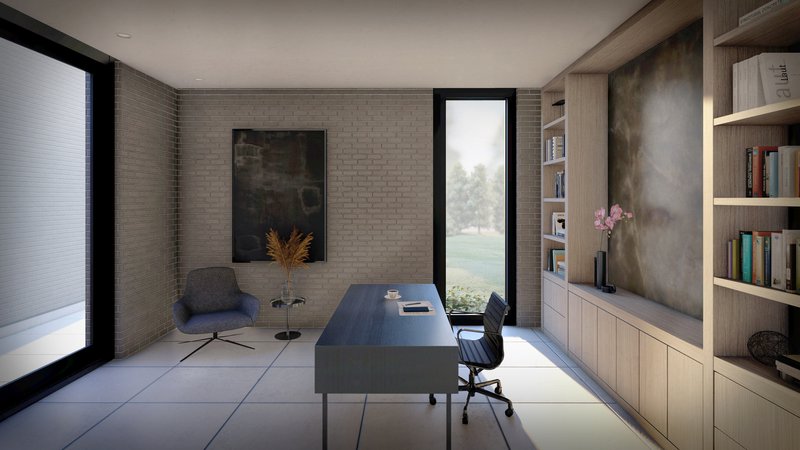 What Makes a Home Office Comfortable?
The key to a great home office is that it is a space where it is comfortable to spend up to eight hours a day. That's a lot of your time! So, especially if you work from home full time, you deserve a space worthy of a CEO (you're the CEO of your home after all!).
Several factors contribute to creating a comfortable home office.

Office Size
Many new home buyers wonder, how big should my home office be?
A recommended minimum size for a home office is 10' by 10'. Many home plans offer small home offices that are ok for checking email from time to time, but are not practical for more full-time work.
At My Modern Home, we generally recommend designing a home office that is at least 13'x13'. While this may seem larger than necessary, a room this size will not only function comfortably as a home office, but also allow the room to serve as a bedroom or flex-room (yoga studio, music room, fitness studio, etc.) for yourself or a potential buyer down the road.
When planning your office, ensure that you will have sufficient circulation space around your desk area, and room for a credenza and filing cabinet(s), or for built-in millwork. If you host clients at your home office, consider space for other furniture such as chairs and a table as well.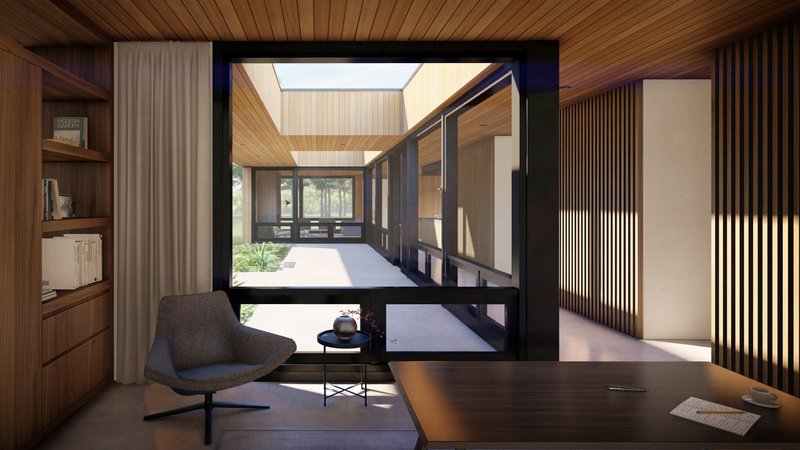 Access to Daylight
As you'll already know if you have read our other blogs, we are huge fans of large windows, courtyards, and access to natural daylight here at My Modern Home.
Not only do large windows create curb appeal for your home (and home offices are often at the front of the house), but access to ample natural daylight has been shown to have several health benefits, and to improve productivity.
A study from Cornell University's Department of Design and Environmental Analysis recently found that access to the optimal amount of daylight reduces eyestrain and headaches in office workers by 84 percent, and that access to sufficient natural light resulted in more alert employees.
Besides, bright, well lit spaces with a connection to the outdoors are just more pleasant spaces to spend time in!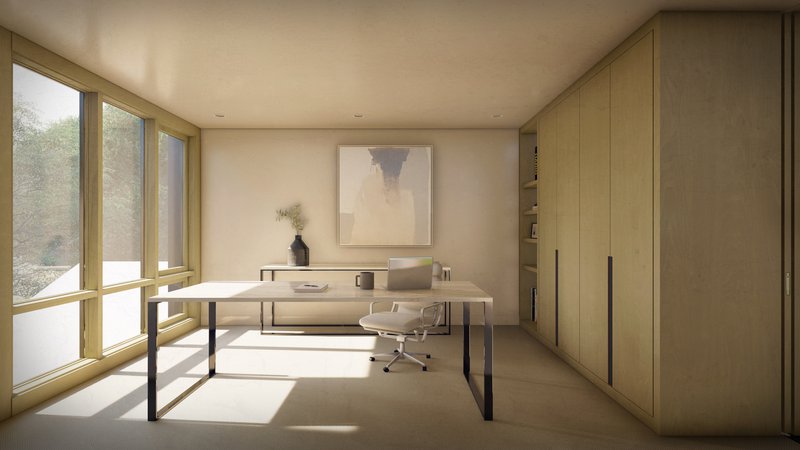 Floor Plan Considerations and Home Offices
While it is very common to find home offices placed at the front of the home, near the front hall or entrance, this is not always necessary or preferable.
When organizing your home's layout, consider the overall flow of your main floor plan. If you will regularly use your office as a work-space, ensure that you place your office well away from loud spaces (such as the kitchen and family or rec room).
You may even consider a second-floor office, as shown in this house plan, rather than a main floor office. While we generally recommend against a basement home office, this works too, if you have access to sufficient natural light. Some homes have basement courtyards, or moon gardens. These floor plans would be appropriate for a basement office.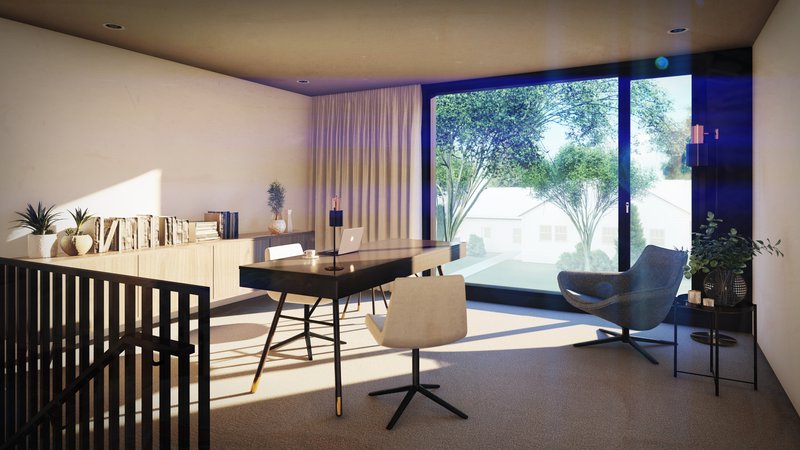 Office Furnishings
As many of us have learned the hard way, an ergonomic home office is key to being comfortable and productive. Poor ergonomics can lead to several issues, from increased eye strain (and the resulting headaches), to back pain, and carpel tunnel to name a few.
Invest in a comfortable, ergonomic office chair that is either adjustable or that has been sized and fitted for you. Also, ensure that your computer monitors and keyboard are at the correct heights to avoid eye and back strain.
In addition to being comfortable at your desk, consider what other furnishings you would like for your office. A comfortable chair is a great spot to take a break from your desk while reading or thinking, and if you host clients or customers in your home office you may also want to consider a small table and chairs away from your desk.
Built-in millwork is a nice addition to your home office as well.