If you are getting ready to build your new home, or if you are looking at updating your existing home, you're probably spending a lot of time hunting for just the right modern home design ideas to bring your vision of a great modern home design to light. With so many sources for ideas, and a huge selection of modern home design products available today, it's easier than ever to incorporate awesome modern home design ideas into your new or existing home.
In this article we'll outline some of the great modern home design ideas that you can incorporate into your house today.



1. Expansive Use of Glass
Expansive use of large windows and glass doors is a hallmark of modern home design.
While this is not a "new" design idea, (modernist architects used expansive glass in their modern home designs way back in the early 20th century) what is new (and we think pretty exciting!) is the accessibility and affordability of large-scale windows and glass doors today.
In decades past the use of expansive windows and glass walls required using expensive, custom-made commercial windows and doors for modern homes. Now, large window units (commonly up to 9'x8' but some manufacturers go even larger!) can be purchased from residential window manufacturers across North America.
Thanks to updated technology glass windows and doors are also more energy efficient than in decades past, so even those living in less-temperate climates (we're looking at you, Canada!) can enjoy expansive windows in their modern homes.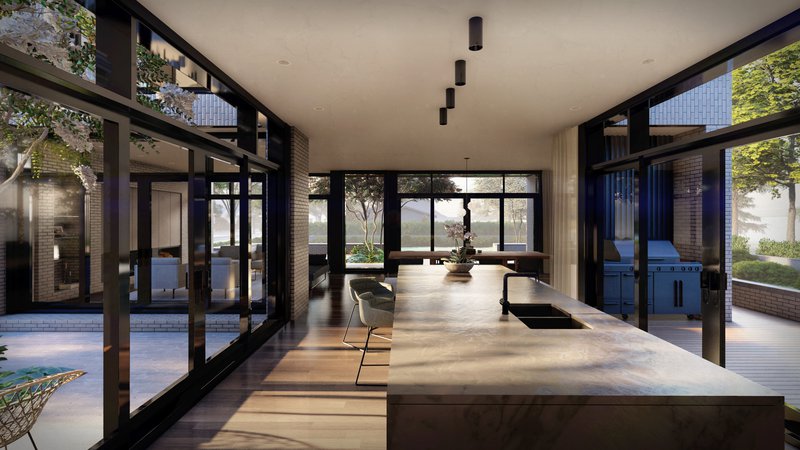 2. Courtyard Modern Home Design
Speaking of expansive use of glass, we are seeing a strong trend towards courtyard homes in modern home design today.
Courtyard house plans are becoming increasingly popular for many reasons.
Not only do courtyard modern home designs offer an intimate connection to the outdoors, they also provide the luxury of privacy even in a densely populated urban setting. Courtyard house plans also maximize daylight in the home and provide larger living spaces by functionally expanding the size of each room they adjoin.
Courtyard house plans also offer a way for homeowners to benefit from increased energy efficiency, particularly in hot climates, as passive ventilation allows cross breezes to expel unwanted heat from the home.
We also see courtyard modern home designs as offering the perfect opportunity for well-considered landscape design afforded by their structured space. Clever use of hardscape (such as stone), furnishings, and vegetation adds to visual interest when viewed from inside the home, and creates a comfortable and beautiful space to enjoy outdoors as well.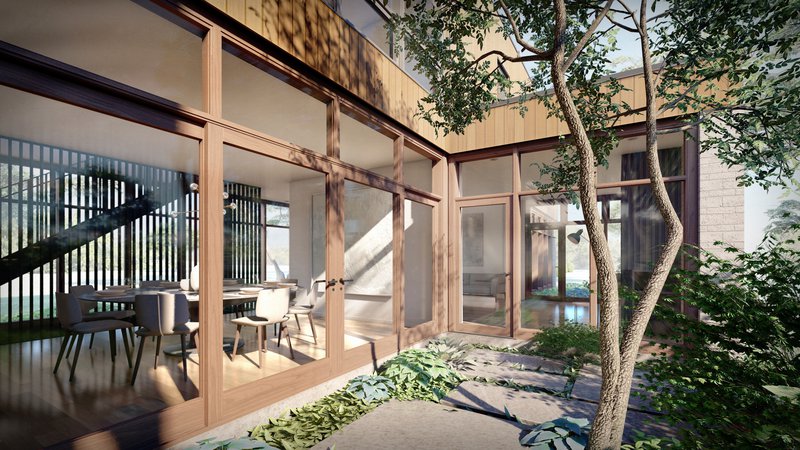 3. Built-in Millwork
Incorporating built-in millwork in your home's design not only provides the opportunity to create ample storage (even in a small modern home), but can also create a very high-end look and feel in modern homes today.
We recommend incorporating built-in millwork in your dining and living rooms to achieve a well-considered interior design. In particular, if you have an open floor plan design, millwork in your dining and living rooms shouldn't be a perfect "match", but should be consistent with your kitchen cabinetry and millwork to create a truly "custom" look for your modern home.
Home offices also commonly incorporate built-in millwork. While we support the use of built-in millwork in a dedicated home office, at My Modern Home we are also big proponents of flexible home design. Thus, we approach built-in millwork in home offices with caution as certain types of millwork design will make the room less suited to use as a bedroom, fitness room, or other type of space at a future date.
At My Modern Home we see two often-overlooked opportunities for built-in millwork in modern homes today - hallways and bedrooms!
Incorporating built-in millwork in your main hallways creates an opportunity to vastly increase the amount of storage in your home and can be much more attractive than plain old drywall and paint.
And while many homeowners drool over the opportunity to incorporate a large walk-in closet into their modern home design, walk-in closets are actually not a very efficient use of space. If you are looking for great modern home design ideas to incorporate into a smaller modern home, we recommend that you consider a bank of beautiful built-in cabinets and drawers in place of a walk-in closet for your master suite.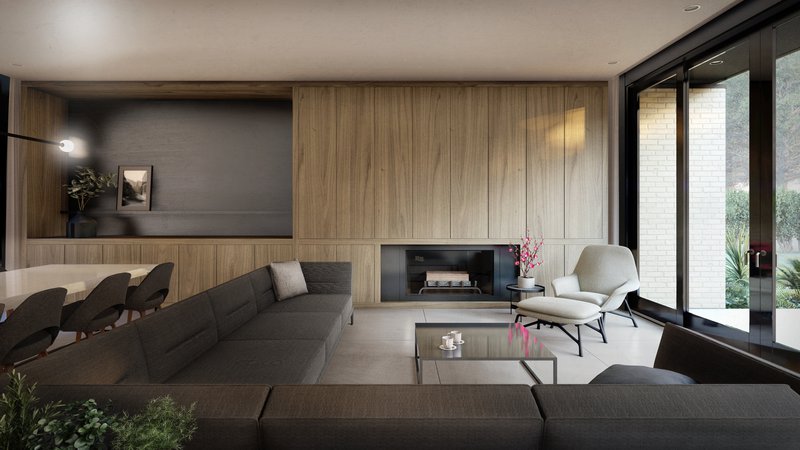 4. Landscaping Ideas for Modern Homes
While a well-designed modern home may be beautiful to behold all on its own, great landscape design will amp up the curb appeal for even the most well-designed home.
Landscaping for modern home design follows the same principles of design as modernist design generally – clean lines, natural materials, minimal ornamentation, and functional spaces.
While concrete is commonly used in landscaping design for modern homes, some of our favorite modern home design ideas favor using natural materials such as wood and stone for hardscaping. Not only do natural materials avoid being "trendy" they also develop a beautiful patina over the years and don't need to be replaced as they wear.
We also love that the use of natural materials provides the opportunity to create continuity between interior and exterior design elements by using the same materials inside and outside the home.
Use landscaping to highlight the best features of your modern home's exterior, to create privacy in an urban setting, and to create spaces or "rooms" for outdoor entertaining.
Be sure to consider how plants, trees and shrubs will grow over the years. Also, if you are like me and need all the help mother nature can give you, chose plants that are well-suited to your climate for a lower-maintenance yard with plants that are more likely to survive without constant care.
Consider working with a landscape architect to help you truly take your modern landscape design to the next level.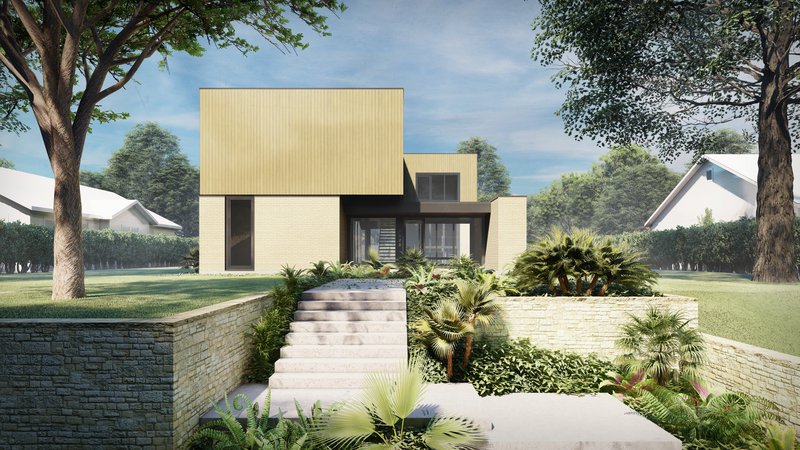 5. Modern Home Design Ideas for Outdoor Entertaining
This topic is a bit of a continuation on landscaping for modern homes – we think it is essential that any modern landscaping design provide great spaces for outdoor entertaining. Once these "rooms" and hardscapes have been constructed, it's time to furnish them!
The best design ideas for outdoor entertaining in your modern home will depend a bit on the climate where you live, as well as the orientation of your yard.
If you live in a particularly warm climate, or have a south-facing back-yard, consider locating outdoor entertaining spaces adjacent to your home to take advantage of natural shading afforded by cantilevers, overhangs, or built-in pergolas.
If you live in a cooler climate and want to extend your outdoor entertaining season, consider purchasing a gas or propane fueled fire table for entertaining and plan to locate your outdoor rooms to receive maximum evening sun if possible. Also try to shelter these spaces from the wind using your home, vegetation, or hardscaping (such as fences or retaining wall) as a windbreak.
We recommend investing in good-quality, comfortable furnishings for outdoor entertaining. While great outdoor furniture is not inexpensive, these furnishings are designed to stand-up to the elements and will last for years longer than budget options – possibly saving you money over time.
To get a truly custom look for your modern outdoor living space, consider having custom cushions made for your outdoor furniture. Companies such as Kravet and Sunbrella offer hundreds of outdoor fabric options that are guaranteed to stand-up to the elements.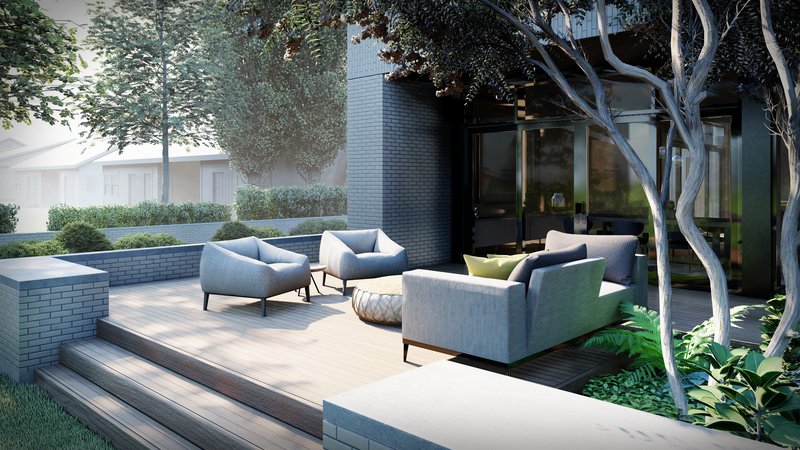 Where to Begin with Your Modern Design Ideas
This article really only scratches the surface for incredible modern design ideas that you can incorporate in your home today. For more modern design ideas, browse our other blogs or check out our plans page for inspirational images.