Here are 9 tips to help minimize the cost of building a home:
Choose a Compact Design
---
One of the most affordable ways to build a house is by choosing a compact design.
Many times, customers looking to build a new home want to maximize square footage to fit in as much "program" as possible. Often, families constructing a "move-up" or "forever" home feel that they have outgrown their existing home. However, much can be said for building a wisely-designed small home plan.
Not only can a compact design sit on a smaller lot (thus saving on the cost of land acquisition, landscaping, and even property taxes over time), but fewer materials and hours of labor are required to complete construction.
Also, most custom home builders price new home construction by cost per square foot.
Aside from land acquisition and construction costs, the cost to furnish a compact home design is also much less than for a larger home. Many homeowners forget to account for costs related to items such as window coverings, area rugs, furnishings for living rooms and dining rooms, and other décor costs when designing a new home. Less finishes and furnishings can allow homeowners to chose higher quality furnishings, or use savings to reduce mortgage and other loan costs.
As you can see, a compact home design is one of the best ways to cut costs when building a house.
Getting rid of underutilized space is an ideal way to create a compact home design. Skilled designers are also able to create flexible home designs that require less space to achieve the same lifestyle benefits you expect from a larger home.
At My Modern Home we strive to provide customers with efficient design – whether it is a custom home design, or one of our pre-designed home plans!
Pro Tip: Reducing home size doesn't mean you have to give up the home of your dreams! Check out these beautiful architect-designed compact home plans designed by the team at My Modern Home.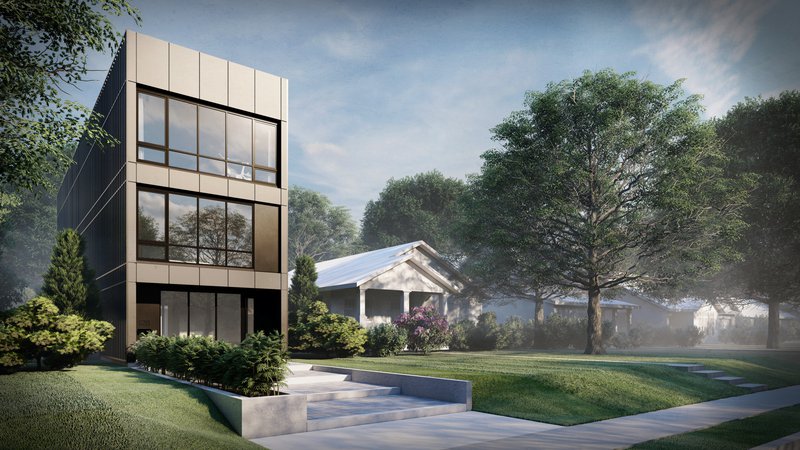 Prioritize Your Spending
---
A fortunate few might not need to make trade-offs when building a new home, but for most of us, the sky isn't the limit when it comes to budget.
With this in mind, we've ranked where you should focus your funds in order of priority to make sure you minimize the costs of building a home while maximizing your end result:

Functionality
Before you even consider the best ways to cut costs when building a house, it's important to make sure that you have a functional, well-designed home that considers the quality of space. A well-designed, functional home will see you through many stages of life, meaning you can live in the same home for a very long time. The quality of space will ensure you love living in your home and enjoy the day-to-day experience of being in your space.
Before you can achieve functionality for your new home, it is important to consider the functions that you need (and want!) your home to serve. Designers call this list a "functional program" or a "design brief".
Your design brief will help you identify which spaces and aspects of the functional program are 'must haves' and which are 'nice to haves'. For example, if you work from home regularly, a comfortable home office is a "must-have" but if you only use your home office to pay bills and store paperwork, it's probably a "nice to have". Likewise, design considerations will be different for folks building a "forever home" than for those who are building a "move-up home"
Your design brief will help you to prioritize square footage and construction spending on the parts of your home that are most important to you, and to cut-out some items or spaces that are not priorities for you right now. This will help you save on both construction and interior design costs.

Pro Tip: Before you start designing your new home, make sure you know which questions to ask when designing or building a new home.
Quality of Space
Quality of space will allow you to use each of the rooms in your home to its full potential and allow you to enjoy living in your home more – everyday.
Designing a home for "quality of space" involves ensuring that spaces in a home will function well for their intended use, create flexibility for homeowners, and will be comfortable, enjoyable spaces to inhabit. Some of the aspects that will improve the quality of space within a home include access to natural light, creating meaningful connection between spaces, allowing a home to meet new needs and wants over time, and providing connection to nature. We touch on many of these topics in more detail in various blog articles to help you learn more about the ways that modern home design can improve your quality of life,
You may be asking yourself – "How does this help me save money"? A home that is designed with quality of space in mind will let you get more with less – less square footage, less wasted space, less renovations and alterations down the road, less likelihood of you incurring costs to move or build another home in a few short years – but more quality of life!
Quality of Construction
Once your home is built, you can't "re-do" the construction phase.
Poor workmanship, using construction materials that are not well-suited to your climate, or using poor quality materials for the base construction of your home (think building envelope, foundation, and framing) may save you a few bucks now, but can lead to major headaches and major costs down the road.
Make sure that you work with a reputable designer and home builder, and that your builder prioritizes workmanship (no cutting corners!). Ensure your builder hires experienced and reputable tradespeople who have experience working on homes similar to yours. Don't be afraid to ask for references! As we've noted in our blog, "Things to Consider in a Hot Real Estate Market", waiting for the right builder is worthwhile.
Consider if you should engage any consultants to help with the project. This usually is not required for residential construction, but may be required based on:

Your climate – if you experience extreme weather in your area, you may want to engage with a structural engineer or building envelope consultant to make sure your home's construction will stand up to the elements.
Your location – some municipalities may require certain certifications or documents that require engaging a consultant. For example, we worked recently with a client who had to construct a home that was certified as "fire safe" due to the large number of wildfires experienced in his area.
Your home's design – some technically complex homes may require a structural engineer to certify drawings and provide input on construction methods or materials to ensure the home is safe.
Long-Term Design Elements
Now that you have a functional home design that you love, and you've engaged a reputable builder, it's time to focus on the elements of your home's design that are costly and/or difficult to change down the road. Prioritizing these elements within your over-all budget will ensure that you aren't sacrificing quality and will save you money over the long term.
First of all – what parts of a home design are difficult or costly to change down the road?
We will leave aside changing the layout of your home – as hopefully this has been covered because you've prioritized functionality and quality of space already. Other elements that are difficult and costly to change include windows, flooring (remember, trim must change too!), kitchen and bathroom cabinetry and other built-in units, bathrooms, and roofing materials.
For these items, prioritize buying the best quality you can afford. For some of these items, such as roofing materials and windows, a high-quality purchase may also provide other cost savings. For example, high-quality windows are often more energy efficient than less expensive alternatives, and many insurance companies will provide a discount to homeowners who chose higher quality shingles.
When selecting elements that are costly to change, it is also important utilize strategies that will help you design a timeless home. A few elements that create a timeless home include choosing natural materials whenever possible and choosing neutral colors for more permanent elements.
Designing a timeless home and prioritizing spending on more permanent elements of your home design may not create immediate or significant cost-savings, but knowing that you are choosing timeless elements will give you the confidence to prioritize your spending now, and can save you tens of thousands of dollars down the road.
We do a deep dive on these considerations in our blogs, "What Makes a Great Kitchen?" and "How to Design a Timeless Home" if you'd like to learn more.
Trendy and Easy to Update Design Elements
Unlike windows, flooring, and cabinetry, other design elements are (relatively) easy to update or more likely to change with short-term trends. You can cut costs when building a house by budgeting less for these design elements and updating them down the road when your budget allows.
Kitchen countertops and hardware like cabinet pulls, doorknobs, and towel racks are very easy to change. If you are budget constrained, opt for less expensive materials during the construction phase and splurge down the road when your budget allows.
Window coverings need to be functional (we are all about black-outs for bedrooms), and certainly a poor-quality window covering can ruin the look of your beautiful new windows. However, there are many moderately priced window coverings now available that are both functional and attractive. It may take a bit of work to shop around for an attractive, budget friendly option that meets your functional needs – but you can save thousands of dollars by doing so!
You may be surprised to learn that faucets and lighting present a real (and often overlooked) opportunity to cut costs when building a house. Faucets and lighting also tend to be more trendy than other design elements (possibly because they are so easy to update!) While we drool over designer lighting on the regular, you can purchase budget-friendly versions of your favorite style and upgrade to the real deal down the line.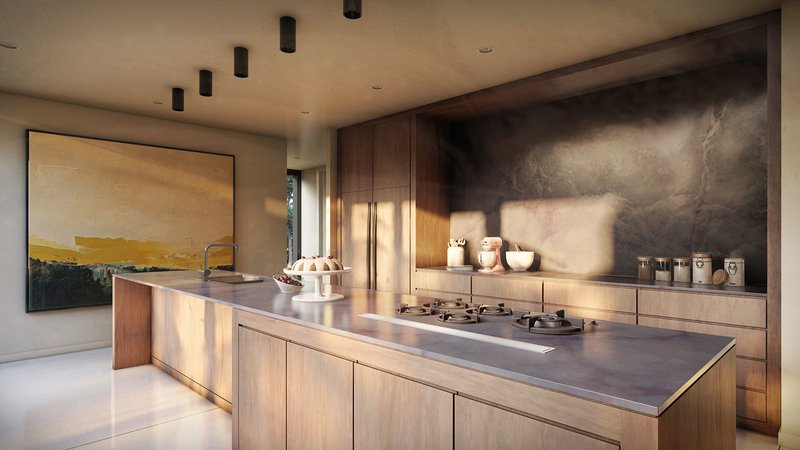 Expenses you can Defer
Finally, when looking for ways to minimize the costs of building a home, consider what costs you can defer for months or even years! Depending on your needs and lifestyle, these elements may include:
Landscaping – opt for sod for the time being, and build a beautiful deck, garden, and seating area in a year or two.


Finished basement – leave the basement wide open, or frame and drywall your basement but add finishing materials later.


Detached garage – build a parking pad for now, and build your garage down the road.


Furniture – make do with your existing furnishings, or choose a few key pieces to buy for your new home. Update additional furnishings as your budget allows.

Prevent Cost Overruns
---
It may sound like trite advice, and certainly, no one expects to run over budget when they start building a home, but following these tips may be one of the best ways to save money when building a house.

Make all decisions in advance, and ensure that they are well documented.
Speaking of well documented – sign a contract with your builder. Have it reviewed by a lawyer before signing to make sure your rights are protected.
Don't change your mind - It's expensive. The joke in the industry is that you'll pay double for additions and receive a credit for half of the deletions (only it's no joke). This is why planning is so important – more on this in our blog "Questions To Ask When Designing a House".
Keep the project on schedule – ensure that you include a project schedule in your contract and keep your builder accountable to that schedule. Consider a bonus and/or penalty clause to incentivize your contractor. These can be complicated so – again – consider engaging your lawyer to help.
Ensure your builder's budget is realistic – ensure that you receive quotes from at least 3 builders and consider getting a cost to build for your home.
Consider a fixed price (stipulated sum) contract. This will require that you make a majority of decisions in advance, and you'll want to work with a lawyer to ensure everything is well-documented.
Purchase a pre-designed home plan. Knowing exactly what your new home will look like and having accurate and complete drawings will allow you to get accurate budgets from prospective home-builders and will make them more open to entering into a fixed price (stipulated sum) contract. For example, you can shop My Modern Home's affordable modern house plans and we can assist you with a cost to build to help you have cost-certainty for your new home.
For custom home plans, work with a designer who likes coming up with creative design solutions to ensure you get the most value out of your new home. At My Modern Home, this is definitely our jam – so consider reaching out.


---

While there is a lot to consider when building a new home, choosing a well-designed house plan, prioritizing your spending, and taking the time to plan the details of your project can all help you to minimize the costs of building a new home and also ensure that you love where you live for years to come!