3) Questions that Must be Answered Before You Build
Now that you've taken the time to create a design brief, and frame out your priorities, it's time to get down to the nitty-gritty questions that must be answered before you decide on your new home design. Make sure you answer the following questions before deciding on your home design:

Q. How large is my site, and what size of house can I build?
The size of your site along with your municipality's bylaws and regulations will impact how big of a house you can build on your property. You can find information about your lot in your real property report or a legal survey of your site. This information is often provided along with your title documents when you purchase your property. Your municipality will publish the required setbacks for your site – this is typically governed by your land use zoning. Municipal bylaws will also typically limit the maximum height of your house, as well as the maximum amount of area your house can cover on your property.
Helpful note: Municipal bylaws are usually written in a way that is easy to understand. You will want to determine what your land use zoning is and read the general residential requirements, followed by the specific requirements for your zoning.

Q. Are there any architectural guidelines for my community?
Architectural guidelines, also known as design rules or architectural standards, establish a community's requirements for homes built in that community. Guidelines often include aesthetic considerations when designing a house, which may vary from one community to another but may also impose set back, height, or other design limitations that will impact the design and construction of your home. Ideally, you will be aware of these standards before you purchase your lot.

Q. What is my budget, and what can I build?
Use your budget as a way to understand and determine what (how large, and to what finish quality) you can build. Some preliminary research on the web can give you a good understanding about typical construction costs in your area. Consider checking out the links that we've provided below.
Click here for US home construction costs and here for Canadian home construction costs.
You may also consider asking people in the construction industry such as local home builders, material suppliers or design professionals so you can understand a reasonable construction cost per square foot for the type of house completed with the type and quality of finishes you are looking for. As we've noted above, we recommend prioritizing aspects of the design that can't be easily changed or upgraded down the road as you prioritize your budget decisions.
Another reliable approach would be to engage a cost estimating consultant (quantity surveyor). If you choose to go this route, cost consultants are typically engaged throughout the design process in order to estimate the cost of the design at various stages. The accuracy of their cost estimates become more precise as the design matures and is further documented. This can give you much more confidence about your design decisions as you are able to evaluate the cost of certain decisions and prioritize your values throughout the design process.
At My Modern Home, we have partnered with leading cost consultants to help you obtain more cost certainty and to select a qualified and reputable builder for your My Modern Home plan. Find out more information about this service here.

Q. How many stories do I want to build?
The number of stories you chose to build will be influenced by a number of factors:
Your preferred style of home - bungalows look quite different than a three-story home;
The height of neighboring homes if you are building in an established community;
Your lot size and the number of square feet you wish to construct;
Whether or not you would like a basement in your home – basements are typical in some parts of North America and atypical in others; and
Your budget - multiple story houses are generally less costly to build (per square foot) than single story houses. This is because you will have less roof and foundation area to construct.

In addition to the more practical considerations outlined above, lifestyle and longevity may also influence the type of home you build:
Is this your forever home, and do you want to climb stairs in your golden years?
Do you need space for a live-in caregiver now or in the future?
Do you need multiple bedrooms on the same floor for young children? Or would you (and your teenagers) prefer to be on separate floors?
Q. What type of construction do I want?
The most common type of residential construction in North America is wood platform-framed, and with good reason:
Wood is relatively inexpensive.
Wood is easy to work with, and fast to erect.
Wood is readily available, and is a renewable resource.
The cellular structure of wood has inherent insulative properties.
The wood construction industry has developed a skilled and plentiful labor pool.
(This is why MMH designs their homes using standard wood frame construction.)

Nevertheless, other considerations may lead you to consider other construction types for your home:
You prefer a more durable material.
You prefer the look of other construction types (i.e. steel or concrete buildings).
Your local construction industry favors other materials and construction methods.
You want to minimize your environmental footprint.
You have local climate considerations (eg. hurricanes or high incidence of forest fires) that lead you to consider other construction methodologies.
Q. When do I want to build?
There are a number of considerations that impact how soon the inaugural shovel can break ground. For example, if you choose to walk into a land developer's show home and find a design that suits your needs and is ready to go, you could be moving in within the year. Contrast this to working with an architect on a bespoke design – it is more likely that at the end of the year your design is complete and the drawings are ready to go out for construction pricing (ie: out to tender).
(Note: MMH's business model with pre-designed plans gets you into construction mode as quickly as working with a builder, and with more certainty than retaining an architect).
Helpful advice: It's worth having your design professional provide you with a project schedule that identifies key milestones. This ensures that they have planned the entirety of your project delivery, and allows you to understand how your project is tracking. But most importantly, it's a huge red flag if your designer is reluctant to provide this – it could mean that they are inexperienced or are unprofessional and sloppy in the delivery of services. It is also a red flag if the project schedule is unrealistically short (their budget may also be unrealistically low).

Aside from the type of design service or product that you choose, the main factors that impacts how long the design process will take are:
The size and complexity of your house.
If you already have the base information that your designer will need (functional program, legal land survey, geotechnical/soils report).
If your design complies with your local bylaws – applying for relaxations can take time.
How long your municipality takes to review your permit applications.
And perhaps most impactful – how quickly you make decisions, and how often (and how significantly) you change your mind during the design or construction process. Again, we recommend completing a design brief to help minimize these changes.

It may be helpful to understand that most custom home design-bid-build processes go through the following stages:
Client research and designer interviews
Agreement / contract
Information gathering and preliminary research
Schematic design Phase (high-level house planning and massing)
Design development and development permit (refinement of house design and product selections)
Construction documentation and building permit (working drawings and specifications)
Bid / Tendering (pricing and construction contract award)
Construction
Q. How Many Bedrooms do I need and where should they be?
We have touched on this in the "Create a Design Brief" section above, but some more specific questions to consider in answering what may seem like a straight-forward question are set out below:
How many people live in the house now, and will this change over time?
Do you plan on having children? The number of bedrooms you need may change. Many families with young children seek floor plans that have all of the bedrooms on the same floor. You may also want to consider a living space near the children's bedrooms so that you can be within ear-shot during the evenings when the kids are in bed.
Is an elderly family member likely to move in, and should you plan for it? Should their bedroom be at ground level? How much autonomy for this loved one is desired? Should they have their own bathroom, sitting room, kitchenette, etc.?
Is this your forever home? If yes, ask yourself "Where should the master bedroom be?", and "What other aspects should I consider to accommodate my golden years?"
Q. How many bathrooms do I need and want?
The number of bathrooms you have in your home will be influenced by considerations such as:
The number of stories of your home.
The age and life-stage of family members.
Whether each bedroom will have a dedicated washroom, or if bedrooms will share a washroom.
The size of your home and budget constraints.
Other considerations, such as cultural factors.
Q. What other rooms do I need and want?
Your home will include a kitchen, living room, bathrooms and bedrooms – but what about the other spaces that support the life that you live (or want to live)? Think about what works well for you now, and in the past, and try to understand what made it so. Also think about what hasn't worked and why.
Do you work from home and need a home office?
Do you want a formal dining room, or do you prefer a dining space adjacent to the kitchen (or both)?
Do you want a home gym or fitness studio?
Do you want separate living rooms? For example - one for formal entertaining, and another where you relax in the evening (and where popcorn and snacks on the couch is no big deal).
Do you want space for the family to come together? What do you need to support this? (eg. spare bedrooms, shared or separate washrooms)
Will these spaces be used for multiple functions?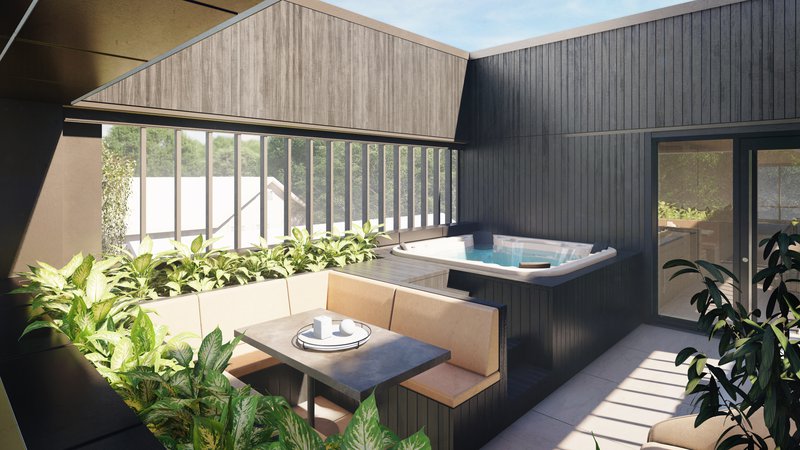 Leverage Your Design Brief
---
Now that your design brief has provided you with clarity on your needs and wants, it's also important that you make the most of this tool. Continue to reference this document when you are evaluating design options and when you find yourself faced with tough decisions. Share it with your design team. Your functional program will also help them stay on course throughout the design process. It's also important to understand that you can lean on your functional program if your designer gets carried away and moves in a direction that you are unhappy with.
[Helpful hint: It's always a good idea to have the functional program included in your design contract so that it can be referenced on a legal basis for redesign if your design and needs are not aligned.]


Reduce Risk with a Pre-Designed Plan
---
The desire to reduce (dare we say – eliminate) this risk is one of the key objectives of My Modern Home. With your design brief in hand, you can freely study our pre-designed plans and evaluate how they align with your goals, and evaluate if any of our plans fit your needs and design aesthetic.


We're Here to Help
---
Not only does My Modern Home offer a range of pre-designed home plan collections, we believe that your home's design should reflect your values and support the aspects of your life that are most important to you. That's why our architects are always available to help you tweak our home plans to align with your content brief and vision for your dream home.
Browse our plans here, or reach out to us below to start a conversation about how we can help you achieve your dream home.